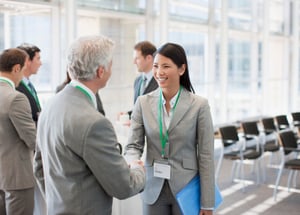 It's no secret that landing a job interview takes a lot of time and effort, so you want to make sure you optimize your chances once you have an interview scheduled. There is nothing worse than showing up to an interview underprepared as it wastes both your time and the companies. This is why it's so important you have a strategy in place to allow you to ace the interview process and differentiate yourself from competing candidates. Talent acquisition professionals conduct many interviews each day, undoubtedly making it difficult for most candidates to stand out.
To differentiate yourself in an interview and make sure the interviewer remembers you in a positive way, read on to uncover tips on how to excel in your next interview.
5 Ways to Differentiate Yourself in an Interview
1. Do Your Research
Once you have an interview scheduled, it's time to conduct some essential research. Find out all the information you can about the company, the industry, and the job description/requirements. Be prepared to weave this knowledge into your interview responses so the interviewers know that you are dedicated to taking this job seriously. Employers will not remember generic answers, so tailoring your responses to be relevant to the job at hand is crucial to setting yourself apart from the competition.
Another benefit of conducting pre-interview research is to understand the company's values and culture and how they align with your personal views. If they don't, you might want to reconsider the interview and if the job is the right fit for you. If they do, demonstrate how you relate to them during your conversation.
Additionally, going into the interview prepared with sufficient research will boost your confidence, which will help you make a good first impression.
2. Sell Yourself
In today's job market, there are often numerous qualified candidates interviewing for the same job, so selling yourself effectively during the interview is more important than ever. If you have a certain skillset, a strong work ethic, or experience pertaining to the job, bring it up. Prepare specific examples that demonstrate your past successes and strengths that align with the job duties.
It's best to find the right balance of confidence to portray in the interview - the interviewer needs to understand that you feel strongly about your abilities, but you also need to make sure you don't come off as a know-it-all. Also try to build a positive rapport so you can connect with the interviewer and increase the likelihood that you are remembered favorably.
3. Emphasize Your Interest
Make sure the interviewer can tell that you are interested in the position, and it's not just any other job to you. You can articulate this by describing what caught your eye about this particular company and job.
It's also important to communicate your enthusiasm about the job in a genuine and professional manner. In the end, showing strong initiative and drive during your interview will assure you stand out from the competing candidates.
4. Ask Questions
This ties back to the research component in the beginning. Conducting research will give way to thoughtful questions about the company and the job, which will help you gain a better understanding of the opportunity.
You may want to ask questions about growth opportunities, the team you will be joining, and any new company initiatives. This demonstrates your genuine interest and shows a level of investment in the company. If you leave an interview without asking any questions, you risk losing the opportunity because you are not engaged and showing enough interest.
5. Interview Wrap-Up
When the interview concludes, make it abundantly clear that you are interested. It's best to explicitly state this in case the interviewer did not pick up on it throughout the conversation. Before you leave, make sure to ask about next steps to once again show your interest and for your own peace of mind.
Self-evaluate your performance when you leave to identify areas you excelled in and others that you can improve upon for any future interviews.
Finally, send a thank you letter after the interview. Thank them for their time and consideration, reiterate why you are interested in the job, and say you look forward to hearing from them about next steps. These final acts will keep you at the top of the interviewer's mind and could be a deciding factor when it comes time to choose which candidates move to the next phase of the talent acquisition process.
The interview process can be daunting to face, but taking these expert tips into consideration will make the process easier. If you have a plan, prepare adequately, and have confidence in yourself, you will have no problem leaving a good impression on your next potential employer.