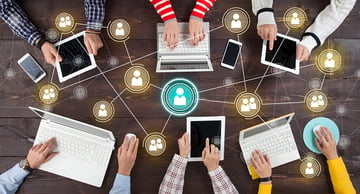 Did you know that as much as 86% of people turn to social media when looking for new job opportunities? On top of that, 92% of employers use social and professional networks, such as Instagram, Facebook, and LinkedIn, to hunt for talent. It is already more than through classic job boards, ads, and referrals.
Evidently, traditional recruiting methods, while time-tested, are not so powerful and effective anymore. Our digital age calls for new decisions and initiatives when it comes to seeking talent for your company. Here's where social recruiting can breathe new life into your headhunting efforts.


What is Social Recruiting?
The term itself provides a good hint: it is a type of recruiting that happens via social media. These may include:
Facebook
LinkedIn
Instagram
TikTok
Twitter, etc.
This choice of outreach channel is not accidental. Virtually every business has online presence today – especially on social media platforms. Why not leverage this visibility by connecting to potential employees through these virtual spaces? Besides, since the majority of Millennial and Zoomer potential employees spend hours on social media daily, social recruiting is a great opportunity to organically reach these demographics.


Why Consider Social Recruiting?
78% of HR professionals predict that social media recruiting is going to grow over the next years. And this tendency is not accidental. Social recruiting has multiple benefits:
It allows generating more reach: especially if you want to connect with passive job seekers who are potentially interested in new opportunities but don't send out CVs or contact employers.
It is cost-effective: when it comes to traditional recruiting methods,

it can cost a company upward of

$4k

to hire

a new employee.

These expenses add up and require massive resources from businesses. With social recruiting, you'll save time and money by seeking talent in an organic, non-intrusive way.
It is a great way to perform initial candidate screening: people's social media pages are basically the reflection of their personality. Through social recruiting, you can see what kind of candidate you're considering right away: their interests, activity, area of expertise, etc.


enhancing your social recruiting practices
Now that you know what benefits social recruiting can bring to your business, let's see how you can enhance your social recruiting practices with these 5 simple steps.
1. Choose the Right Platforms
Your first impulse might be to try and target as many social media platforms as you can to reach more potential candidates. However, a better approach would be to narrow down your focus.
Figure out your desired candidate profile. What are their skills? How do they communicate? What is their age?
Understand what their social media platform of choice is. Say, you're looking for a talented videographer. Chances are, they are hanging out on TikTok and YouTube rather than Twitter or LinkedIn.
Target the chosen social media channel to boost your recruiting efforts.
2. Grow your Audience Reach
Make sure your social media profiles are visible, and your job postings are easy to find even for passive job seekers. A lot of recruiting success on social media depends on how you present your company and vacancies to your audience.
Optimize your profile

. People shouldn't have to struggle to find your professional page. Use relevant keywords related to your business niche and brand name, add a location, and an eye-catching description to your page.
Make the fact that you're hiring VERY clear.

Create "we're hiring" posts, publish ads, and update your social media page with the relevant news for your prospective candidates.

Engage your audiences.

Tell them about your company and the perks it offers to employees, ask your followers to contribute their opinions on your products, services. etc. The more engagement you inspire in your audience, the more potential job seekers you will attract.
3. Tap into Employee Advocacy
Employee-generated content (EGC), similar to user-generated content (UGC), is an excellent way to attract talent on social media. Statistics show that employee content generates 561% bigger reach compared to the brand's official content on social media. This astounding number speaks for itself.
So consider turning your employees' activity on social media into a full-on employee advocacy campaign. You can:
Ask your employees to post brand testimonials and reviews
Use employee storytelling: have your best people tell their audiences what it's like to work with you
Show your corporate culture

in a positive light: let your employees take pictures and videos of your meetings, working processes, etc.
Employee advocacy will boost your social media promotion and motivate more potential candidates to reach out to your company and its representatives.
4. Create a Well-Thought-Out Application Process
Make sure you develop a user-friendly, simple application procedure. In particular, consider including the following:
Break the application process down in no more than 2-3 steps. For example: CV submission – interview – screening. The fewer stages you have, the more people will be motivated to follow through with them.
Provide excellent HR support. Candidates should be able to reach out to your company representative and get all the necessary info about the application process.
Stay in touch. If such steps as the CV review are bound to take some time, let your candidates know when you'll get back to them. You can do this by using a

free email marketing tool

that will allow you to send shortlisted candidates regular and scheduled updates. The aim is to always keep them in the loop.
5. Leverage Advanced Options
Finally, don't ignore the many opportunities social media keep opening up specifically for businesses that seek to enhance their online presence and leverage. Let's overview the most popular options:
Business Page. These are really numerous on Facebook, for example, but you can use Instagram for this purpose, too. Call you page "X career opportunities" or "X careers" – it will be transparent and easy to spot.
Facebook ads. Post your vacancy ads and make them visible across the platform for a prospective candidate to see.
Advanced Search on social media. If you're open to looking for new hires manually, use hashtag and keyword search to explore social media pages of the people who might be a good match to your desired skillset. For instance, LinkedIn advanced search lets recruiters filter hundreds of profiles to spot top talent.
TikTok Resumes. TikTok introduced TikTok Resumes in 2021. This pilot program allows companies to post vacancies, and job seekers can send TikTok video resumes to show their interest in the position. Considering the audience demographics on the platform, TikTok is a great way to tap into a pool of college students that want to work online, which you can eventually convert to full-time employees upon graduation.


Conclusion
As you can see, social recruiting is not rocket science, but the effect it yields for your headhunting efforts is massive. Leverage these 5 social recruiting strategies to find new people for your business team in a fast, cost-effective way.
Pro-tip: you can also use influencer marketing to boost your social media presence and attract even more passive candidates. For instance, choose one or several of the top New York influencers who can promote your brand in an authentic way and generate valuable leads to your web pages.
About the Author: David Morneau is the co-founder and CEO of inBeat, a hybrid micro-influencer marketing SAAS/agency that helps brands scale their marketing efforts. He has helped over 200 DTC brands to date.