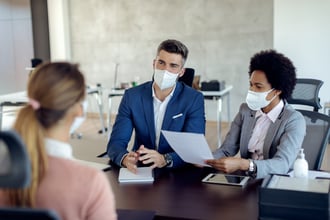 An interview resembles an open-ended exam, in which there is a known answer to each question but a different path to arrive at the desired response. The most important thing to learn is to have an ordinary conversation on an equal footing. But for some reason, the most challenging thing is the understanding that each of the parties has its own experience, its view: personal and professional, and its position. And a professional interview is all about human and straightforward things. This is the ability to be an interesting conversationalist, motivated and attentive.
How to start an interview correctly?
Before interviewing, try to create an image for yourself of someone who can succeed in this position. The task is not just to talk to a person and spend time, but to conclude. If you want to understand how a potential employee is responsible, efficient, how inclined he is to be independent, whether he possesses organizational qualities, etc., make a list of these qualities. It should be noted that they must be necessary for this vacancy. For example, an accountant or operator needs to have such qualities as clarity and diligence. And your interview should be aimed at identifying precisely these qualities.
Usually, for some reason, it is believed that the interview's sole purpose is to decide whether a candidate is suitable or not. This is the goal that lies on the surface. However, there are several more critical tasks: to motivate an interesting candidate for a job in the company, to leave a positive impression of the company for the one who did not quite suit you; to assess the candidate as accurately as possible in terms of individual characteristics, abilities, skills, potential, experience, and values.
At the same time, we can talk about the parallel solution of such tasks as the optimal distribution of time, obtaining truly reliable information, storing the information received, and much more. Thus, a seemingly simple matter turns out to be very complex.
Before starting the interview, after greeting the interviewer, it is necessary to spend a few minutes with a short conversation with the candidate to create a favorable atmosphere for the interview. The conversation may start with some questions about how the person got to your office, whether it is raining outside, how he feels today and whether he needs a glass of water before you start. There is such a term as the rule of 40 seconds. It is believed that, on average, the first impression is formed during this time.
It is important to remember that both you and the candidate have the impression. Help the candidate feel comfortable. It is also recommended to enable the person to behave naturally to get complete answers to the questions that will be asked during the interview. This is necessary because an interview conducted in a tense, stressful environment will contribute to the formation of a negative impression about you, the work in general, and the company.
It would help if you also told a little about the company, about the business's specifics, about the vacancy. Why do we recommend doing this? After all, it seems to be a waste of time. It takes no more than 10 minutes, and will give you a lot:
You will be able to build a task or case in an interview, basing them on the specifics of the company's business;

The candidate will be able, talking about himself and his experience, to select as much as possible that is relevant for a given situation, thereby you can avoid unwanted waste of time;

You will be able to evaluate subsequently the candidate's learning ability to perceive new information by how successfully he is ready to use the data that he received;

You can avoid mistakes associated with an insufficiently accurate understanding of the situation. Often, candidates mean very different things to the same position and department in various companies;

You will be able to position and motivate the candidate even more because you did not start the interview with questions but allowed him to find something about where he came from.
If you find it difficult to compile a list of your company's benefits, or you want to ask non-trivial questions, you can always contact professional writing services.
What are the best questions for learning more about a candidate?
Initially, the candidate is asked questions about his work experience, education, additional training, and courses. It is necessary to create a favorable and friendly atmosphere for the exchange of information.
Tell us a little about yourself?

What attracts you to our company?

How satisfied are you with the pace of your career?

Tell us about your last job?

The reason for leaving your previous job?
For more detail, to provide the candidate with the opportunity to most fully demonstrate his behavior's individual characteristics in the past, additional clarifying questions should be asked. If the candidate has a long work experience, you should focus on the questions in the answers to which the candidate would talk about his past behavior in his job duties.
Conversely, if the candidate has little or no seniority, optional questions are to be asked. As a rule, a person's behavior in the past makes it possible to most accurately predict how a person will behave in the future, being in a similar situation. Mentally analyzing the action of the candidate in the past, imagine how well he will be able to cope with his future responsibilities, what will be the style of the candidate's behavior in the position you are filling:
What are your strengths?

What was the biggest problem you faced in your last job, how did you solve it?

What do you like about your current/previous job?

The reason for leaving your previous job?

Why should I hire you?

What motivates people to work most effectively?



How to end an interview correctly?
The last stage of negotiations involves a summary. Ask the candidate when he can start work, how much time he needs to decide, what other proposals are there, and how he will choose? In any case, thank him for his time, and also clearly agree on further interaction. When and how will finalize the decision, what will be the next steps after the decision is made. We highly recommend at this stage to be honest with the candidate and tell only the truth.

About the Author: Elsa Avendano is a 26 years old highly sought-after employee at Best Custom Writing. She has a degree in psychological education, and in the future, she wants to become a journalist to travel more. Elsa is engaged in charity work in her free time and conducts personal growth training for girls who run their businesses. She also conducts psychological research on parenting and developing childhood trauma in adults. Elsa writes informative, quality articles and site descriptions. The range of topics in her work is extensive. She is not afraid to write about something new because she loves to learn.