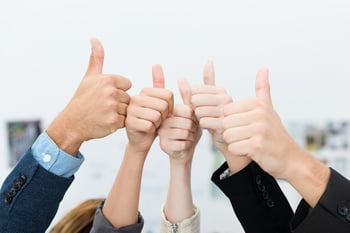 The primary purpose of a recruitment team is to simplify the hiring process through effective recruitment and selection policies.
To achieve that, each successful recruitment team will need to focus on four crucial areas of work:
Identifying top-notch candidates for vacant positions;
Establishing smooth interpersonal communication and collaboration;
Organizing work and tracking its progress;
Streamlining the interview processes.
To help your recruitment team carry out these four crucial areas of work, here are the must-have apps for successful recruiting.
LinkedIn Recruiter
The professional social network LinkedIn currently has more than 750 million members across 200 countries. So, it stands to reason that recruitment teams would want to explore it to search for prospective job candidates. To help you find what you're looking for faster, LinkedIn offers a specialized app for finding talent — LinkedIn Recruiter.
This recruiting mobile app for Apple and Android devices is a simple solution that allows you to find and connect with top-notch candidates quicker and easier.
Once you get a paid LinkedIn subscription for a Recruiter or Recruiter Lite account, you'll get to enjoy the following benefits:
Get instantaneous notifications when candidates reply to your outreach messages;
Track when candidates edit their profiles;
Save prospects to project folders;
Get new results for saved searches;
Gain unlimited visibility to your 3rd-degree network;
Manage InMails to potential candidates;
Search LinkedIn's talent pool through precise keywords and filters;
Access all your recent searches whenever you need to.
What's best, the system eventually learns what profiles you usually look for. So, you'll start getting customized matches for the profiles you need.
Pumble
The key to a successful recruitment team lies in successful collaboration. And, the key to successful collaboration lies in timely communication. After all, timely communication helps:
Improve team productivity;
Speed up decision-making and problem-solving processes;
Create punctual schedules.
This is where apps for team communication such as Pumble come into play.
Pumble is a business communication platform for instant messaging between individuals and groups that functions as a free alternative to Slack and Microsoft Teams. You get to enjoy real-time communication via individual and group direct messages, as well as via topic-based private and public channels. But, you get more features for free — such as the options to add unlimited users to a workspace and search your entire chat history.
There is also a paid self-hosted version of the app that allows you to host your workspaces on your own servers for maximum privacy and security.
As a recruitment team looking to improve communication and collaboration via Pumble, you can:
Create dedicated channels for each position you want to fil;
Add all relevant teammates to the right channels;
Assign tasks, manage internal referrals, discuss the applicant-tracking process, and coordinate interview logistics for the vacant positions, within their respective channels.
Trello
Pumble helps you communicate with teammates and organize information about the recruitment processes. Trello helps you track the progress you are making with the said recruitment processes.
This free project management tool is based on the Kanban principle. A board represents your recruitment projects, while cards represent individual recruiting tasks. You move cards across aptly named columns to indicate the status of the tasks.
For example, a Trello board of a recruitment team can have 5 columns:
A "Future recruiting needs" column. Here, you'lladd all cards representing roles you'll need to consider for the future.
A "Job requirements" column. Here, you'll move all cards representing job positions that need job requirements.
An "Open positions" column. Here, you'll move all cards representing vacant job positions.
A "Paused positions" column. Here, you'll move all cards representing job positions for which you've paused active search.
A "Closed positions" column. Here,you'll move all cards representing job positions for which you've found the right candidates.
The above-listed example of a Trello recruiting board is only one of the app's possible uses. You can also create columns and cards to track separate recruitment processes, such as the interview progress of individual candidates.
Interview Assistant
When it comes to the efforts of a recruitment team, successful interviews are a crucial step on the road to successful hires. After all, a well-organized and well-conducted interview will help you land the top-notch candidates you are looking for. And, Interview Assistant is exactly the type of versatile app you'll want to use if you want to streamline your team's interview processes.
This free mobile app offers features that will help you prepare, conduct, document, and review candidate interviews with ease.
The process of organizing an interview with Interview Assistant is simple:
Create interviews through an easy 3-step process;
Send email invites to candidates;
Allow candidates to self-schedule in available time slots;
Review, plan, and schedule interviews in a calendar;
Carry out the interviews with ready-made questions;
Take text and audio notes during interviews.
When it comes to the questions, this recruiting app offers several possibilities, so, you'll be able to:
Organize and create question-by-question prompts;
Use 250+ pre-set questions;
Use custom-made, reusable question templates.
The "Careers" feature is another special treat. It allows you to document the progress of several interviews and rate them after completion. This way, you'll have a quick overview of your satisfaction with the candidates.
*Bonus solution for tech organizations — Yoh
First-class tech professionals are in high demand — which may make it appear like they are in low supply in a highly competitive job market.
In a way, they are. Research shows that 41% of IT hiring managers say finding tech talent is becoming harder. This is where Yoh can help you.
This specialized recruiting and integrated workforce solution helps you boost your current recruiting team through additional recruiting expertise that will help you increase your recruiting reach and capabilities.
Essentially, Yoh matches tech talent with tech organizations. The platform helps you find technology professionals via:
Contract professional recruiting. Great if you're looking to recruit experienced professionals who thrive in the gig industry.
Permanent recruiting. Great if you're looking to fill full-time positions.
Tempt-to-perm recruiting. Great if you're considering temporary job positions that have the potential to turn into a permanent placement.
The industries you can search through include, but are not limited to:
Information Technology;
Engineering;
Health care;
Interactive Entertainment and Media;
Creative and Marketing;
Validation, Quality, and Compliance;
Life Sciences.
Final words
The key to a successful business is having the right employees. With the help of the above-listed apps, you'll gain access to suitable candidates, streamline teamwork in your recruitment team, better organize and track the workload, and make a giant leap towards the right hires.
About the Author: Marija Kojic is a researcher and writer specialized in team communication and collaboration. She enjoys helping people discover meaningful and effective ways to communicate and collaborate smarter.