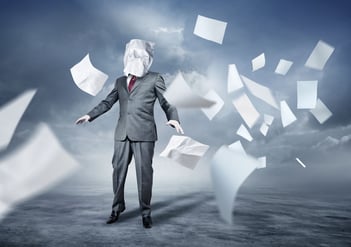 Making the decision to move forward with a Managed Staffing Provider (MSP) program is typically accompanied by the Request for Proposal (RFP). While it can create a lot of questions and sometimes, even greater confusion, the one thing that should be anything but confusing is determining how and when you should rely on the RFP process.
When it comes to investing in an area as critical as your workforce, you want to establish clear processes and measures of success. Determining how to undergo the RFP process is just as, if not more important than, why. Before embarking down this journey, let's discuss when an organization is most likely to source and hire an outsourced contingent workforce provider.


Workforce Needs Which Typically Require RFP
Typically, the need for a Managed Staffing Provider (MSP) starts when organizations require help with workforce planning and contingent labor management. If your organization makes it a point to keep accurate records of workforce trends, then the department tasked with talent acquisition can better predict future hiring needs based on past analytics and react accordingly. However, this depiction of perfection is few and far between.
Whatever the reason, be it lack of resources or technologies, organizations will often turn to an RFP process when one or more of the following occurs:
Need to quickly identify qualified providers to deliver first generation workforce solutions; such as Managed Services, Recruitment Process Outsourcing (RPO), Statement of Work (SOW) Management, Payrolling Services, or Independent Contractor Management


Need to refresh current providers through consolidation, expansion, and/or verification they are providing the best services and prices


Need to learn about innovative or alternative service offerings from other providers


Organization suddenly becomes short staffed (in recruiting and/or talent acquisition)


Continued inability to source qualified candidates


Business expansion or surge that requires formal workforce solutions

Or, if you're in a real pickle, without warning, your company needs hundreds of qualified workers quickly and cost-effectively. But before hitting the RFP panic button, let's address the overlooked but critical steps that most impact the quality of your final RFP.
---
Watch this recorded webinar for 6 easy steps to build a winning MSP business case

---
HOW TO EFFECTIVELY BEGIN THE RFP PROCESS
You want to establish an RFP process that will help you identify a workforce provider that understands your industry and unique business needs. So, you do what seems most natural, grab any available RFP template or throw out every question (including the kitchen sink) at potential providers during a formalized RFP process. The problem is that this approach typically doesn't simplify anything. Instead, it creates an overly complex and burdensome process. What ends up happening is the team distributes an inappropriate RFP that results in the receipt of 50+ page proposals from countless providers.
To counter this, start by identifying the necessary team members that can help determine your organization's program scope and timeline, and define your culture and challenges. Then, begin the process of determining what criteria will be used to make your final provider selection decision. The reality is that, typically, only a handful of questions found in RFPs are used to compare and contrast providers' services and rates.
The next common misstep is selecting the wrong RFP template. When you understand how the final decision will be made, it simplifies how to structure your RFP template. From selecting the right hosting platform, such as Microsoft Office or a third-party software system, to the number of qualifying questions, compiling the right format before you distribute your RFP will save hours' if not days' worth of work.
RFP Templates FOR WORKFORCE MANAGEMENT SERVICES
When selecting the best RFP template, you don't have to rely on that Frankenstein template from year's past. Take a look at some common ways organizations can easily access existing RFP templates designed for workforce management services.
Use a Past RFP Template
This is typically the go-to solution because you know the RFP template has been used in the past and, as such, believe it will best serve your need, right? Well, that depends. Some RFP templates are customized for products instead of services. Additionally, in an industry as specific as workforce management (including staffing and recruiting services), many of the best RFPs have questions that are customized for this exact need.
If you are going with a previously used RFP template, do yourself a favor, and carefully review it before you send it out. Do all of the same questions asked over the past 5, 10, or more years apply today? If not, take them out and research what needs to be discussed for current challenges. Is the medium that was previously used the best for your current needs? If not, investigate other options.
Worse yet, don't copy an RFP template that your organization used for another sourcing initiative. It won't apply. You don't want to be known as the organization that redistributes the same ugly RFP with the same errors over and over.
Find an Industry Specific RFP Template
The staffing industry has a number of resources that provide downloadable RFP templates. For example, Staffing Industry Analysts (SIA) provides sample MSP and VMS RFP templates. The issue with these baked templates is that they don't consider your unique needs and business processes. While they might provide a good framework, you might consider using them as inspiration and not the final RFP template.
Also, it is important to determine the medium that is best for your needs. Is an RFP formatted in Word or Excel best? Do you plan on asking questions requiring soul searching, deep dive responses or brief, to the point answers? Will you need to print the responses you receive? Do you prefer to compare answers from multiple providers simultaneously? Is the needed pricing best compared across spreadsheets? You get the point – the format should match your needs.
Third-Party RFP Software
Some organizations rely on third-party technologies, like SAP's Ariba operating system. This is certainly something to consider if your organization often conducts RFPs. The benefit to these third-party sites is that they easily collect and aggregate the information to save and distribute internally. Be sure to select proven software systems that facilitate the response review by providers, too. However, the downside is, depending on your decision-making process, it's not friendly for all scenarios; such as long-text answers or graphics which are typically best captured on Microsoft Office RFP templates.


RFP Consulting Services
If your organization doesn't have the manpower to undergo the RFP process, then you might opt to outsource this function using an RFP consulting service. If so, ensure you use a proven, trusted consultant that has specific experience with the Managed Staffing Provider RFP and its nuances, and can advise you on the information needed to make informed selection decisions, as well as help you identify, streamline and effectively articulate questions designed to capture relevant data. They can also assist with defining your company's objectives and current status – important details to share with providers.
Best to stay away from consultants that provide you with a menu of RFP questions that are applicable to a wide range of industries, and not customized for workforce management services.
Start any proposal process by determining what is most important to the organization in that given time period. Perhaps cost was top of mind a few years ago, but the latest business stakeholders are more focused on different criteria. When you can understand how your organization makes decisions, you can ask workforce providers the right questions, identify the best RFP format and, moreover, have an even playing field when entering the selection process to effectively weigh providers' solutions against your strategic, long-term objectives.