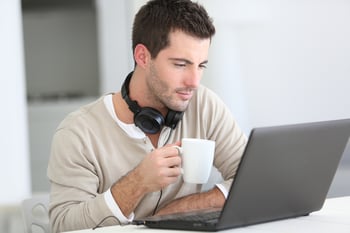 For so many college students, an internship is their first experience in the corporate world. However, a wave of students will be experiencing the first taste of their careers in a virtual world. The coronavirus pandemic has hit all parts of the economy, especially college seniors and graduates as their internship programs have been switched to remote, or canceled completely. If you happen to be one of those students working remotely, there are ways to get the most out of being at home and ways to maximize your remote internship.
When something as tragic as COVID-19 takes the world by storm, it is hard to find any kind of silver lining. But even before the pandemic hit, data collected by a leading flexible workspace provider, IWG, showed that in the last decade, 80% of businesses have introduced a flexible workspace policy. Flexible work options have become an increasing trend in businesses, and the coronavirus has both sped up this trend and shown a strong case that remote work should be the work of the future. Among college graduates, remote or telework could be what saves many jobs, according to the Pew Research Center. If nothing else, the pandemic will give workers and employers a chance to implement remote work. For college students or graduates whose internships have moved remotely, this is a chance to learn what telework is all about. Below are a few ways to get the most out of your remote internship.
3 ways to maximize your remote internship
Establish A Routine
When everything in the world seems out of place, establishing routines during the workweek could be the difference in getting things done. Sometimes the hardest part of working from home is maintaining focus in an environment that your body and mind are not used to. That's why so many look toward routines, as a great way to boost productivity.
For me, it is important to wake up every day around 8:30 a.m., wash up and get dressed. Though technically, I could be in my pajamas all day, establishing this routine early helps transition me into "work mode." I make coffee and head to a designated quiet space where I can be engaged. Choosing a specific area to work in also helps increase focus and productivity. This is just a part of my routine. Yours may be different. That is why it is crucial to understand your strengths and weaknesses, and what you need to be productive.
Make Lists
Though incredibly simple, creating a list, like a "to-do list" every day or once a week, can make a big difference in your ability to succeed. With all goals or objectives, visualizing and writing them down is an important step in accomplishing them. It transitions an idea, into something tangible. Like a routine, this establishes boundaries and organization that brings you one step closer to crossing something off that list.
Whether it is as detailed as an hourly schedule, using the notes section in your phone, a good old to-do list, or simply bullet points; making lists not only helps within a work setting, but according to Psychology Today, can help with your personal life, suppressing anxiety and boosting creativity.
Maintain Balance
Similar to the problem of getting into "work mode" while working from home, it can also be challenging to relax and get your mind off business when you have gotten used to your home being your new office. Working for too long can lead to you burning out and not being as productive and creative as possible. That is why having a healthy balance, where you incorporate time for yourself into your daily routines, is so important. Yoga, exercise, reading a book, or taking a walk, are some great ways to relax and destress.
During this pandemic, it will be harder to find this balance while quarantined from friends and family. So use video calling apps like Skype and Zoom to reach out and talk with friends and family. Here at Yoh, our Thursday Happy Hour Zoom calls are a great way to relax and get to know each other. If your internship does not have that, maybe you can make the suggestion.
With all things in life, you will need to be willing to fail. Mistakes are never bad when you can take away a lesson from them. A big part of being an intern is learning new things about working and business, but also about yourself and what you want out of your career. Be open to try new things and ask questions, and use the tips provided to get the most out of your remote internship as it prepares you for your future.