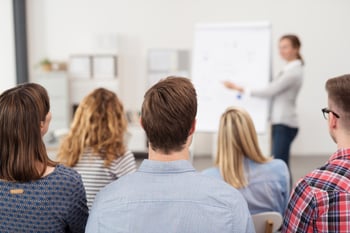 Are you a remote sales manager struggling with crisis management in your organization? This article contains tips on how to deal with the situation.
Sales leadership during a crisis is key to the survival of any business. A recent report published in Forbes identified a lack of sales leadership as one factor that limits the growth potentials of companies.
All sales managers will agree that successfully leading a sales team is one of the most challenging jobs out there.
The onset of the global pandemic, which affected businesses globally, made the job of sales managers even more difficult.
The global pandemic crisis suddenly brought to the fore new challenges for remote sales managers and their teams.
While some remote sales managers found it difficult to cope with the new challenges, others adapted well and thrived during the same period. For example, some sales managers introduced customer retention strategies to cushion the impact of the crisis.
An excellent remote sales manager should inspire his team by inventing strategies to guide them through a crisis.
A crisis can affect a sales team at any time. Apart from the recent global pandemic, a remote team can face challenges like:
Loss of an important client.
Global financial crises.
Loss of a team member.
Budget cut.
Many business organizations are looking for sales managers with sales techniques to adapt and thrive in times of crisis. The fact is, remote work will not end with the current global pandemic. Remote sales managers skilled in crisis management will, therefore, continue to be in high demand.
This article considers the best ways for remote sales managers to lead and inspire their teams during a crisis.
Set Clear Goals
If there is any time a sales team needs clear goals, it is during a crisis. Without clear goals, sales team members will not know what management expects of them.
During a crisis, many things change as people try to adapt to the new situation. It is easy for members of sales teams to become confused in a crisis.
That is when good remote team leaders step in to help their members stay focused on the set goals. Most times, it becomes necessary to revisit your set goals and give direction to your remote team.
When you want to change your set goals, remember the following tips:
Identify relevant goals—Although a crisis can turn your set goals on their head, some of them can still apply to the new situation.
Eliminate irrelevant goals—Managers should identify and discard obsolete objects.
Create new goals—Because the situation has changed, you sometimes need to create new goals for your team.
Have a Backup Plan
Many people's buying behavior constantly changes. The sales plan that worked yesterday may no longer be relevant today.
Every day, customers make decisions that sometimes negatively affect our businesses. Sales professionals must be ready to change course, if possible, to meet expectations.
Team managers must never make their sales plans rigid. Your current sales plans should help your team to adapt to the challenges during a crisis.
A backup sales plan will help your team cope with setbacks during a crisis. The best way to plan for a crisis is to brainstorm with your team to devise a preventive strategy.
Track your Sales Team's Performance
Time tracking sales team's performance gives managers invaluable insights into their employees' work patterns and enables them to make changes.
You never know how your sales team members will react in a time of crisis. It is therefore vital to employee monitoring tools to track the performance of each of them.
The results you get from tracking your team members' performance will let you know if you want to sustain or change strategies.
The benefits of time tracking include:
Prioritize tasks—During a crisis, the time usually allocated to a task can change. Time tracking will enable sales managers to ensure that team members are focusing on vital tasks.
Increase in work productivity—It is easy for employees to relax during times of crisis. But knowing that their time is being tracked increases productivity by keeping your sales team on their toes.
Meet deadlines—In the sales department, time is of the essence. Sales professionals perform many tasks, like managing clients' relationships and contacting prospects. Time tracking lets sales managers monitor if employees complete their tasks within the allotted time frame.
Use the Right Remote Tools
The recent global pandemic made managers realize the importance of remote tools and time management apps to the proper functioning of every business.
During a crisis, most of the usual ways of performing tasks become grounded or ineffective. But with remote tools, sales teams can come up with new ways of doing business.
With the right remote tools, time and distance will no longer prevent sales teams from reaching their goals in times of crisis.
Fortunately for remote sales team managers, there are effective remote tools like team chat apps that ensure internal communication. Moreover, many conference call services are also available to make team communication fun and engaging while working with the entire team.
Staying in touch with your sales team is important. Remote tools will make it possible to maintain communication channels with your team as you would in physical office space.
Encourage Collaboration
If there is any time a remote sales team needs to collaborate, it is during a crisis. A good remote sales manager will therefore encourage team members to collaborate.
Experts believe that when members of a team collaborate, it increases their productivity. By working together, members of a sales team can easily find solutions to their shared problems.
Knowing how to encourage collaboration is a necessary skill for any sales manager. When members of a sales team collaborate, it improves the customer experience of their prospects.
Schedule Regular Meetings
One of the best things a manager can do for a remote team is to provide an effective communication channel for members, especially during a crisis.
Regular team meetings allow a sales team to come together and improve the productivity of each member. Where a physical meeting is impossible, the team must take advantage of virtual communication.
Apart from increased productivity, regular meetings can help your team relax, which is good for the mental health of the individual members.
However, meeting time should be carefully considered, especially when employees have to work overtime. Because in remote work culture, employees are free to set their rest and sleep hours, if the meeting time clashes with their sleeping hours, they will feel frustrated about it.
Times of crisis can be a time of painful isolation, especially for remote workers. Regular meetings should not always be about work. It is also an avenue for sales managers to encourage social interaction and create positive emotions among their members.
Finally
We live in an unpredictable world, and crisis is part and parcel of our everyday living. Wishing that crisis will never happen, or that it will simply go away, is a waste of time.
Sales managers have their work cut out for them during a crisis and must guide their team to overcome the challenging situation.
About the Author: Andreyana Kulina is a Digital Marketing Specialist at Brosix, specializing in Content marketing and outreach strategies. Besides her passion for digital marketing, she likes hiking and mountain-biking.