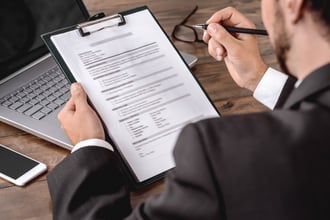 It can be challenging to know the distinction between a resume and a curriculum vitae. When you're scouring job boards, you may have spotted several companies requesting a curriculum vitae (professional CV), others requesting a resume, and several requesting a "resume/CV." It's important to note some marked differences between these two documents even though employers ask for CVs and resumes in job applications.
So, what are the key distinctions between a resume and a CV? Which one should you use when it comes to applying for a job? And what should you incorporate in each one?
The below information will help you plan your document correctly for job applications.
What Are the Distinctions Between a CV and Resume?
The main distinctions between a CV and resume come down to the document's subject matter, objective and length.
It's also crucial you bear in mind where in the world you're applying from as well as your occupation choice when determining which document is more suitable.
In the United States, a resume presents a brief and organized compilation of your specialized skills, experience, and credentials that are solely related to the job description. On the other hand, a CV must be detailed and show a description of your educational and specialist qualifications and achievements.
A few of the main distinctions include:
Location:

In countries such as New Zealand, the UK, and places in Europe, many employers prefer CVs to describe both resume-style and CVb forms and steer clear of the phrase "resume." In contrast, countries like Australia, South Africa, and India use the terms "resume" and "CV" synonymously. However, in the US, a CV and resume are two extremely different texts, used for totally different reasons.

Length:

Because a resume presents your experience and credentials for a specific job, it should ideally be only a couple of pages. Since a CV doesn't have a word limit, it can be a lot longer than most resumes, as it incorporates additional material and more in-depth explanations of publications, research, presentations, and projects.

Job type/skills:

A resume's primary purpose is for jobs in the private or public divisions that are usually alluded to as "industry roles" versus academia. Professional CVs are used for academic job roles or scholarships, courses, research, or teaching roles. CVs are commonly used if you've graduated from or submitting an application to a master's or doctoral training program or if you work at an academic establishment as a lecturer or scientist.
What Does a Resume Include?
Ideally, you should include the following on your resume:
A summary statement

Specific experience section

A summarized description of your most applicable professional accomplishments. Recorded in reverse-chronological order, beginning with your most recent role.
It's also worth including your educational background, related professional organizations you're involved in as well as relevant volunteering. You could include any significant apprenticeships, volunteer work, training, or personal ventures if you cannot list many/any professional work experience.
What Does a CV Include?
When it comes to writing a CV, you should include the following:
Career history

Educational background

Special honors

Awards

Grants

Scholarships

Research

Academic projects

Publications
Other essential points to include are coursework, professional references, dissertation descriptions, research, not forgetting a personal statement that mentions your related experience and qualities.
Main Points
The key differences between a CV and a resume are subject matter, objective, and length.

While CVs have no length constraints and could be up to 10 pages, resumes are restricted to a couple of pages.

A CV is an all-inclusive, detailed document containing your related professional and academic accomplishments that are usually included for research or teaching roles.

A resume is a brief and organized compilation of your professional attainments tailored to the specific role. Feel free to comprise accounts of personal projects, volunteer work, and academic, depending on your stage of professional expertise.

It's important to bear in mind the position and geographical location of the role when determining whether to send a CV or resume. If you're unsure, it's worth speaking to the recruitment agency, hiring manager, or HR person.
Resumes and CVs are both professional documents that can get you interviews, but it's vital to note that they do have their differences.
Author's Bio: Andrew Arkley is the founder of Purple CV, one of the UK's leading CV writing providers. He has over 15 years' experience in HR and recruitment at a senior level and has conducted thousands of interviews, so he knows precisely what it takes to land a job.