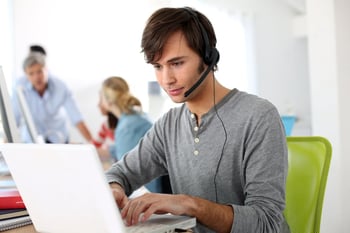 It's not easy to be a professional in the eLearning industry; after all, the constant development and advancements in technology require continuous engagement and self-improvement. If you're one of the people interested in establishing your authority within the eLearning industry, it's crucial that you work continuously on polishing and cultivating your expertise in the field. That said, you can consider several different ways to develop your eLearning skills and knowledge, thus taking the necessary steps to advance your career.

1. Stay Up-to-Date with the News
The easiest way to keep track of the eLearning industry's latest developments is to check the news on the matter continually, right? While this is definitely true, taking the time to search for this information online is not everyone's cup of tea. The search itself is tedious, and you might not have the time just to browse the internet for new articles. This is where you can utilize the amazing technology of news alerts and have the eLearning-related articles and news delivered straight into your inbox from the sources you find valuable and reputable. Quick, easy, and smart!
2. Become an e-Learner Yourself!
There's hardly a better way to better your own eLearning skills and gain some new understanding of different fields than by experiencing the online learner situation on your own. When you put yourself in the learner's position, it will be easier to pinpoint areas that you find necessary for proper use of resources and explanation techniques. Not to mention that you can try out a course that's always interested you, from making the most out of a tennis instruction video to learning how to play the cello! As an eLearning professional, you already know that there are no limits to what you can learn online. Whatever course you decide to sign up for, you're bound to learn a lot from your colleagues in the field and gain more knowledge about the course itself. It's a win-win situation!
3. Utilize New Tech Trends
The nature of eLearning is the continual innovation in the use of digital technologies. As such, it's only logical that utilizing all sorts of different kinds of technological platforms and tools for your own eLearning courses will allow you to better your skills and overall services. That said, do your best to explore the available platforms and tools that other eLearning professionals recommend and use. By joining the social media groups and forums where eLearning experts from all over the world gather, you can learn a lot about the new tech trends and potential tools that can upgrade your course content and design.
4. Address the e-Learning Feedback
Like with any other service, you must elevate your eLearning business by listening to and communicating with your clientele. After all, there's no better way to learn more about potential room for improvement and become an industry leader than by paying attention to what your online learners have to say. Constructive criticism may not be all that pleasant. Still, it can make a huge difference in allowing you to continually develop your eLearning skills and knowledge so that you can cater to your target audience more efficiently.
5. Share Ideas with Other e-Learning Professionals
We have already mentioned just how valuable it can be to join social media groups and online forums where you can get in touch with other eLearning professionals from all over the world to get acquainted with new trends in technology. But the benefits of networking with other people from your industry don't end there. Use the power of the internet to share your ideas, worries, questions, and whatever it is on your mind regarding the eLearning industry. This can be a fantastic opportunity to grow together with other renowned experts whose advice could prove to be invaluable.
6. Take Part in e-Learning Webinars
Aside from seeking connection 101 from social media and forums, you can opt for a more comprehensive and practical approach and attend webinars that deal with the eLearning industry and its continuous development. While you may have hosted webinars as part of your services before, it's an entirely new experience to be a webinar participant. Webinars are constructed to address specific topics and trends within a particular niche, which can provide you with a quick yet meaningful insight into your own eLearning career's potential updates.
If you're prepared to put effort into growing and developing your eLearning skills and knowledge, you won't lack the tools and ways to do so. The technological background of eLearning makes the learning resources readily available and relatively easy to find. And keeping up with the industry innovations will only make your content and courses more engaging and attractive to potential online learners. Actually, this has to be a part of your journey to establishing strong eLearning expertise.
About the Author: Eve Anderson is a marketing specialist turned blogger. He is interested in sports, exciting travel destinations, and love to share informative content that can help people.