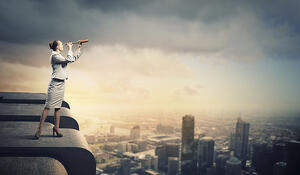 The labor market snapped back in 2014, sinking the unemployment rate to its lowest level since 2008. In many ways unemployment was the most stubborn of the economic measures in the wake of the recession, slow to tick back to baseline. Yet an unemployment rate that has returned to normal has done little to shake off the uncertainty that has characterized so much of 2014.
Have we truly made the kind of progress that 5.8 percent unemployment suggests? Some say yes, some say no.
While unemployment dipped to its lowest rate since the recession, the labor force participation rate fell to 62.7 percent in September, the lowest since the 1970s. If unemployment is dipping because potential workers are quitting the labor market, can we call that headway?
And while the recent unemployment figure suggests the economy is back on solid ground, when you look behind the numbers, you discover that most new job creation is low wage, service-oriented work. At the same time, the number of workers holding two jobs was at a remarkably high 7.7 million as of October—11 percent more than a year ago. That suggests the job market still has several cracks to fill before anyone can truly declare that the economy is back to normal.
Of course your perspective on the strength of job growth and economic recovery depend on where you stand. But there are several objective bright spots in the employment economy.
It's undeniable that companies have record amounts of cash on hand. Apple, for instance, is now sitting on more than $155 billion in cash, cash equivalents, and marketable securities, more than triple that of the U.S. government. And Apple's not alone. Microsoft, Google, Verizon, and Pfizer all have more cash on hand than the U.S. These companies will have to spend that cash sooner or later to fuel growth, and when they do, it could set off a hiring spree with reverberations across the economy.
Technology continues to transform the American workforce and a number of other prominent and under-the-radar sectors continue to show incredible promise. These bright spots of 2014 are shaping up as the markets to watch in the coming year.
Bright Spot #1: Gaming
In March we took a close look at the gaming industry and its insatiable appetite for technical talent, including everything from game developers to animators to testers. Bigger and more profitable than the movie industry, gaming continues to grow and shift, offering new opportunities for both seasoned talent and newcomers passionate about the industry.
But it's not all fun and games. Gamification in the corporate sector represents a real opportunity as American corporations deploy gaming strategies to boost productivity, motivate sales teams, engage customers, and otherwise use the competitive spirit to lift performance.
Think you have what it takes to secure top talent for the fast-growing video game business? See how others have leveled up their hiring of developers.

Click Here >> for Gaming Staffing Services
Bright Spot #2: Oil and Gas
At the same time, the real miracle in American employment—and perhaps the most surprising—is oil and gas. As recently as five years ago, the American oil and gas industry had been written off. It was theorized that America was long past its peak production.
But then came the shale gas revolution and American innovation, which fueled unconventional drilling techniques and opened massive new reserves to exploration. The result is a vast employment demand for everything from petroleum engineers to environmental attorneys to the more physically demanding jobs such as roustabouts.
Click Here >> for Oil & Gas Staffing Services
Bright Spot #3: Financial Services
An equal level of employment froth has bubbled up in the financial services industry. With baby boomers retiring at record numbers, the demand for novel financial consulting and benefits and retirement planning is expected to stay high for the next decade.
These jobs are taking many shapes. The biggest buzz in 2015 will be roboadvisors. These are automated, self-service financial planning platforms that, through the power of technology, allow consumers to manage their own financial future at a huge discount over hiring financial planners.
These companies rely on technology and programmers to create easy-to-use, cloud-based solutions that can manage millions of users and secure environments. As such, the highly automated movement of money drums up unprecedented demand for technical professionals who understand mobile, security, and cloud-based technology.
Bright Spot #4: Media and Entertainment
And the 2014 employment story wasn't solely a serious one. In September we identified emerging employment opportunities in media and entertainment. While America might have lost some of its manufacturing might, it's still the world leader in innovation and creativity.
Nowhere is that seen more than entertainment and media. Last year, American entertainment and media companies—including music, movies, and gaming—produced more than $573 billion in value through products that were exported to every corner of the world. From "12 Years a Slave," which won an Oscar for Best Picture, to Taylor Swift's "1989," which saw the biggest week of sales for an album in more than a decade, the movies, music, television, and other media produced in the U.S. remains some of the most influential and lucrative.
Our analysis of the entertainment industry brought some interesting conclusions. For instance, job demand isn't just for creatives and performers. In back of those intoxicating stars stands an entire army of accountants, engineers, social media experts, editors, cosmetologists—the highly influential roles often spied only in the tiny print of the credits.
Click Here >> for Meida & Entertainment Staffing Services
Talent strategies for lean times
All in all, 2014 proved itself to be a year of hot spots and opportunity, albeit lumpy and isolated to specific industries and verticals. If our coverage throughout the year proves one point, however, it's that even in an inconsistent recovery, progressive organizations are universally adopting new means of managing the staffing challenge.
As we reported in July, MSP and RPO are blending together due to increasing acceptance of both staffing solutions. The walls defining one from the other have crumbled in an era when companies are less concerned about acronyms and more with the ability to efficiently, quickly, and nimbly fill bulk or high-skill positions at a time when few companies want to add the fixed overhead of in-house recruiters. Instead, MSP and RPO offer a smart strategy for maintaining the cost savings that a prolonged recession forced upon the marketplace.
Even as employment improves, corporate America is not returning to pre-recession exuberance levels, when staffing departments were fat and happy and willing to shoulder many of the responsibilities. Corporate staffing will remain lean and mean, demanding even greater partnership between vendors and suppliers as the new balancing act becomes an issue of finding on-demand talent in order to capitalize on awakening markets.
The Path Forward
Globally, macroeconomically, the U.S. has much to gain. As European markets struggle, Asian markets return to more realistic levels, and a newly elected majority in the U.S. Senate bodes well for the might and right of American business.
Within that framework, the interest of the world will return to the U.S. economy, propelling our growth. Talent will take on new meaning as companies search for those skill sets that can capitalize on an improved American economic outlook while controlling costs, gaining better transparency, and reducing time to hire in what could be the strongest year for the American economy since 2008.
This blog was written by Matt Rivera. Matt serves as Vice President, Marketing and Communications and is responsible for overseeing all aspects of Yoh's marketing and brand communications. Matt holds a degree in Journalism/Public Relations and has been working in the staffing industry for more than 25 years. Prior to this role, Matt held many different roles from branch recruiting and proposal writing to technology management and online marketing.