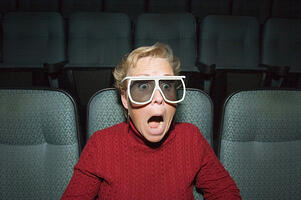 Perhaps no American industry has experienced as much upheaval in the past 10 years as entertainment. Once governed by clear-cut production, distribution, broadcast, and copyright rules, today entertainment is caught in a hail storm of change. In an era where on demand is in demand, the war on talent has become a war on time
In music, downloadable and streamable services have killed off major record labels and redefined the merchandising and retailing of everything from Yanni to Kings of Leon. In movies, a new on-demand era of consumer expectation has transformed flat screens and Internet connections into 3D-enabled high definition home theaters. The chaos continues in cable TV. Today more than a third of all downstream bandwidth is consumed by Netflix. Broadcasting as we once knew it has been splintered into hundreds of different cable channels all serving niche micro-audiences.
A new era of ubiquitous displays provides an unprecedented variety of viewing options, from iPhone to tablet to laptop to LCD. And all of this is taking place on demand, at the exact moment the consumer wants it, no matter the location. Airport coffee house, dorm room, subway, park bench. The good news behind all this is that the chaos carries enormous opportunity.
In the past decade, the entertainment industry grew by 50 percent. The video game industry alone accounted for $67 billion in revenue in 2013, nearly double the global box office revenue of the movie industry. Of course there have been some casualties in recent years, as both Fox Animation Studios and United Artists filed for bankruptcy. But for every media giant that has fallen, a new player has emerged. Spotify for music, Hulu for TV, YouTube for news, and of course Netflix for movies. In this new environment, employee opportunities are abundant. The entertainment industry employs 247,000 workers across every level of talent, from set carpenters to network execs, social media managers to street teams of kids hawking a new release in Times Square. In short, there's opportunity in the madness.
But the rules of entertainment employment have also been re-written by these sweeping industry changes. Short-termism is all the rage. The entertainment executives know that to find profit and exploit niche markets, they have to move quickly and nimbly, reducing selling cycles from years to months, months to weeks, weeks to days.
Take this summer's release of the campy and self-aware "Sharknado 2: The Second One." The tongue-in-cheek SyFy blockbuster drew in 3.9 million viewers when it was released direct to TV on July 30. To generate buzz, Sharknado relied on a short-term, high-impact social media marketing program that required an army of creative and technical talent to execute over a matter of weeks. Behind that success are hundreds of short-term, contingent jobs that demand a wide range of creative, promotional, and technical savvy.
To meet such a fast and furious pace, many entertainment companies are relying on payrolling as an effective strategy to access highly skilled pools of talent on a short-term basis. Payrolling is an employment industry term for when clients ask for the exact candidate they need for a job. Staffing companies carry the employment obligation, keeping these specific professionals on their own payroll so they can be instantaneously deployed to meet clients' needs.
The entertainment industry is now effectively using payrolling to offload the carrying and benefits costs of permanent employees, while also bypassing the procurement, human resources, and onboarding processes. Many of these employees are specialists, from makeup artists and costume designers to editors, composers, and programmers to the management professionals who understand how to deploy and execute a highly creative project with a limited timeline and strict budget.
"The entertainment industry is well aware of the benefits of payrolling, which harks back to the days when staffing companies provided extras for movies," says Monica Lucero, Strategic Account Director, Media & Entertainment. "Since then it's become an art of its own, with staffing companies working hand-in-glove with the entertainment industry in order to bring in talent as quickly as possible to keep a project on schedule and under budget."
Take Amilcar Bonnett for instance. "The economic downturn a few years ago prompted me to seek contracting opportunities, and Yoh was a perfect fit to help me do so. By working with them I've been able to continue gaining relevant and timely skills that have positioned me well for future opportunities," says Bonnett. "Today my resume and personal growth reflect the necessary skills and professionalism that employers want, and because of that I feel much more marketable."
Bonnett is just one example of where the entertainment industry draws talent. Certainly creativity is the lifeblood of the industry, but so, too, are legal and professional skills. The entertainment industry today is firmly rooted in the economy of intellectual property, and protecting and leveraging that intangible asset requires tremendous legal and professional expertise.
"The talent to manage highly profitable, short-term projects is a skill unto itself," says Lucero. "In a business sense, these professionals need to understand the power, potential, and profit of intellectual property, as well as the legal cornerstones of its careful stewardship. Royalties, revenues, commission splits, copyright fees, and publishing rights backstop the entire industry. And while these revenue sources might flow uniquely in entertainment, they still require deep insight into accounting, finance, budgeting, control, monitoring, and ultimately, collection."
That business talent—the suits—often considered the dark side of the business, has to be balanced against the creative enterprise. At its heart, the entertainment industry depends on touching the hearts and souls of its audience, whether through music, movies, broadcast, or games. Understanding art, production, and pop culture is often a shared responsibility of everyone who touches the industry, and new digital pathways have assured that more individuals can more easily touch the industry.
From 2008 to 2010, the number of book titles produced more than quintupled to nearly 3.1 million as online publishing opened new launch pads for writers' work. The number of feature films produced globally grew 27 percent to 7,193 from 2005 to 2009. The global music industry is also transforming as independent artists grow in number and clout, from a quarter of the market share in 2007 to more than a third in 2013.
"Nowhere is the application of creativity a bigger business driver than in entertainment," says TK[AB2] . "And while the industry has been under tremendous upheaval, it continues to grow exponentially as access increases and production is democratized worldwide."
Consider YouTube. Every day, users upload 144,000 hours of video, which would take more than 16 years to watch. Enterprising individuals are building entire careers, capturing audiences, and earning advertising income from the shared online video channel. Much of this employment is untracked. The BLS never counts the 16-year-old who just received a check for $10,000 because his viral video earned three million views.
Even where employment is tracked, the numbers prove that the industry is healthy, growing, and should be of serious consideration to employees looking to build a creative career. For entertainment companies desperate to hire professionals who understand and can manage both the creative and business sides of the business, there are also new opportunities as the industry evolves and expands.
The entertainment industry is fundamentally different than it was 10 years ago. The Internet has enabled a new generation of artists and creatives to earn their keep independent of the established studios, publishers, and record labels, while players like Netflix, Spotify, and YouTube continue to redefine the rules of the industry. But as media and technology collide, and more creative talent finds independent opportunities, sourcing the right employees quickly and efficiently is the only way for entertainment companies to meet the growing appetite for content. Now, more than ever, there's no business like show business.