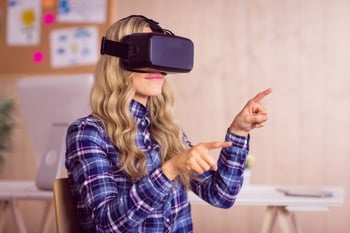 Augmented Reality (AR) continues to rise in popularity as the era-defining technology for many niches. As per the latest Statista report, there are close to 1.7Bn AR users all over the globe. After successfully penetrating e-commerce, retail stores, gaming, and the eLearning industry, AR has started to infiltrate so-called business workplaces and Human Resource teams. Developing apps with AR technology has now become popular for recruitment and HR processes as well.
How is AR redefining recruitment and HR processes?
How is AR adding value to talent acquisition and Human Resource Management?
Here through the rest of the blog post, we are going to inquire about this.
AR Resume is Already Here
Many of us have seen those so-called DIY videos that, by manipulating still images, tried to offer an AR experience. These are not the outcome of any rigorous AR development projects but still grabbed attention because they deal with job candidates' resumes. Yes, AR-based resumes are already here.
By using designated AR development tools like ARKit, tech-savvy can now create very sophisticated job resumes. Several of them can be found on platforms like LinkedIn, and in the years to come, such resumes will be more popular and commonplace.
Providing Brand Exposure
When a business wants to get the best talents in different crucial positions, it needs to showcase the value propositions offered by the company. The value proposition of a job starts with the brand value. So, the business needs to provide a feel of the brand and its continuing growth prospects. Thanks to AR-based immersive experience, companies can now offer a clear idea about the brand and its potential more easily for employment prospects.
When a company presents its job openings in job fairs or events focused on employment, an AR-ready counter can be created to give any interested employee an idea about the brand and its value offerings. For prospective employees, the company can also provide a feel of the workplace environment.
Evaluating the Skills and Expertise
AR can also be utilized effectively to evaluate and test the employee's skills and expertise level. This can be real fun as candidates being lured into AR experience can easily give exposure to their skills and problem-solving capabilities. An AR-based game can be created for the prospective employees to evaluate specific skills, personality attributes, problem-solving abilities, etc.
There are already several examples of top brands using AR-based game apps to evaluate the skills of new candidates. Jaguar already developed a code-breaking game to test new job applicants' coding skills and problem-solving abilities. The app helped the brand evaluate the right persons with the required skills and get them on board easily.
QR code is still a great way to incorporate AR into the mix
The QR code that preceded the emergence of AR and VR technologies offers us great examples of how it can transmit data while allowing interactions between the digital and the real world around us. In the context of AR-based recruitment, QR codes can play an awe-inspiring role.
For instance, a resume created using AR-powered visuals can be protected through a QR code, and the candidate can send the QR code to allow the employer to check the resume. The company can also provide a QR code to the prospective employees who can scan the code and get real content representing how a brand functions.
Though QR code doesn't represent an alternative to real AR projects, it can be utilized to contain and make available more relevant data and files in the years to come. QR code can be an excellent tool for modern HR teams.
AR-powered employee induction and training
According to a recent survey, around two out of three companies think during the Covid pandemic, when most employees used to work from home, productivity didn't come down or at least remained the same or found an increase. At the same time, remote training and inducting employees remotely became a challenge. This is where AR experience proved to be vital.
AR has emerged as the most suitable and engaging medium to provide training to today's mobile workforce. Major brands across niches have already embraced AR training and AR-based remote induction for their new staff. From Rockwell Automation to automobile giant Volvo Groups, many have embraced AR training.
Hands-on remote guidance
For recruits in-field technician positions or apprentices, it often becomes a challenge to provide hands-on technical guidance. This is where AR-based remote guidance can take the worries off from companies handling a large team of field professionals.
Technical staff using their device cameras or headsets can capture the specialized equipment and their exact conditions, collaborate with the experts, and get hands-on guidance on troubleshooting, detecting issues, and making repairs or changes as necessary.
On the other hand, the procedures of field staff and professionals and the remote collaboration on technical issues can also be recorded live, and the entire content can be made available for other professionals to take guidance.
Providing a sense of the work environment
A great work environment is a crucial consideration for any recruit as it will inevitably influence job satisfaction. Leading companies boast of a very relaxed and mutually caring work environment where all employees can freely explore new ideas and flexibly engage. Such a work environment proves to be lucrative and sought after by top talents.
The question is, how can your company lure new talents with the promise of a relaxed and flexible work environment relying on creative spirit more than anything else? This can be easily done by presenting an AR-based visual journey through the work environment within the company.
An Immersive Experience of the Job
Some companies started to create immersive AR-based games to help recruits get a clear idea of the job responsibilities and the entire work atmosphere where they will fit in. Such games can easily attract the best talents to their ideal jobs and help them learn skills they need to develop.
Some manufacturing and tech giants already implemented this as part of their talent acquisition drive and got excellent results. Siemens has come up with a Facebook game referred to as Plantsville. Through this game, the interested people can have an immersive experience of working in a virtual factory managing resources, getting used to operational challenges, managing staff, etc. Such simulated experience by incorporating AR can make a great impact on talent acquisition and recruitment.
Employee Onboarding
Every HR team wants to ensure easy engagement and smooth output of their recruits early on. For a superior onboarding experience, AR technology can play a significant role. AR-based interactions can more easily orient them with the technicalities and job skills when introduced to new job roles and responsibilities.
AR-based employee onboarding gives a hands-on experience of their future job responsibilities and the feel of the organizational culture and the work environment. Particularly in industries like manufacturing or IT that involve rigorous technical skills, such immersive experience based on AR can play a significant role.
Conclusion
Human Resource management and recruitment continue to become tech-savvy. The AR-based recruitment, evaluation, training, and employee onboarding tools will be the future talent acquisition drives of companies.
About the Author: Wasim Charoliya is a digital marketing consultant and strategist at Intelivita leading web and mobile app development company in the UK. He is passionate about helping startups, enterprises, B2B and SaaS businesses to establish thought leadership in their industry with actionable content strategy.