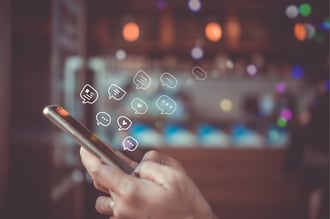 Advanced smartphones have enabled users to access mobile applications that can entertain, educate, and let them do just about anything in between. Still, text messaging remains valuable in today's marketing landscape. Building customer loyalty and enhancing your mobile marketing through SMS marketing can benefit your company. Find out how you can achieve customer loyalty with SMS marketing.
The Pros of SMS Marketing
SMS is not obsolete just yet. Its simplicity attracts new customers precisely because it is a simple yet effective way to expand brand exposure. It has been discovered that over 70% of clients forgo subscribing to loyalty programs, specifically if they are met with too much friction in the registration process.
Most often than not, registering for certain programs will eat up too much time, which is why many consumers prefer subscribing to loyalty clubs via SMS.
What's more, text messaging is a universal medium that doesn't require the use of an internet connection. This means that using SMS allows your business to reach more clients, especially those who are or might be, at the moment, off the grid for one reason or another.
Also, if you have SMS as an added marketing tool, your clients will not have to rely on downloadable apps that may take up too much space and become unreliable at one point. This makes your message accessible even to those who own mobile phones that are not "app-ready."
SMS Marketing Helps Enhance Customer Loyalty Efforts
Text messaging is an effective tool to nurture client relationships. Nearly 80% of businesses believe that clients prefer text messaging as a means to provide customer service. It is a good call that more than half of call centers currently have SMS support as part of their services.
Here are some ways that SMS marketing can attract, engage, or retain loyal customers.
Text messaging is immediate
The faster our phones get, the more we expect instant gratification. We can transmit gigabytes of data in seconds. As a result, it is simple to connect with a diverse audience in the matter of just a few moments.
With an open rate of 98%, businesses that use SMS to communicate with their customers certainly have an undeniable edge over those that do not use the platform. It has been found that text messages are generally opened within 90 seconds of being sent. This is lightning fast compared to emails, which are said to be opened on average within 2.5 days.
Time-sensitive information such as bank security issues, appointment reminders, shipment status, or flash sale alerts can easily be disseminated through text. Text messaging allows you to connect with your target client instantaneously instead of sending a newsletter via email that could get lost with other strategic marketing efforts.
SMS is a universally accessible platform
Companies with successful and effective SMS marketing campaigns send their clients relevant text messages that align with their customers' tastes, backed with data from their purchase history, browsing habits, and many more factors.
Being aware of generational preferences will help marketers navigate the waters better. For instance, Generation Z and millennial consumers are more inclined to have more loyalty to brands that have a personalized approach, while Gen Xers and baby boomers do not mind these things as much.
Knowledge of generational consumer preferences will allow marketers to adjust the tone, language, frequency, and overall messaging when using SMS marketing.
SMS minimizes friction when transacting with clients
SMS is a popular way to resolve client issues and decrease friction because customers won't have to deal with being put on hold or waiting extremely long for a response on social media platforms.
Loyalty program enrollment is easier with SMS
Signing up for services and perks like loyalty programs is made more hassle-free for customers if SMS is a platform made available to them.
From your end, all that you have to do to hit the ground running is to provide a simple short-code at the checkout or during the point-of-sale. Once they text your chosen keyword (maybe "join" or "promo" or whatever keyword you have picked), you may respond with a welcome message, which may also include a link that leads them to your website or downloadable app where they can complete their registration.
SMS optimizes transactional messages
Your customers need information in real-time, at the right time. SMS marketing services allow you to send the right messages to the correct audience at the right time and reliably, too. Some service providers will even allow you to curate your customers' experiences. This capability will enable them to receive personalized messages that cater to their interests, increasing the likelihood that they'll buy from you.
Maximize Your Marketing Strategy with SMS
When used in the best possible way, SMS can transform your marketing game and take it to a whole new level. Used alone, you can communicate with a wide range of clients through text messaging and inform them of sale events, company news, or any other time-sensitive updates that require immediacy. When used in combination with an array of other marketing channels, it could help you foster a great relationship with clients who will stay with your brand for as long as you can deliver on your promise.
About the Author: Alex Alabiso built Semaphore's tech backbone and keeps it running smoothly. In his spare time, he grows hydroponic tomatoes and plays video games