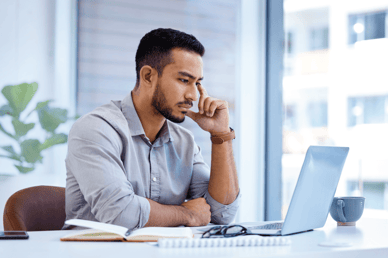 Discontent is rampant throughout the U.S. workforce. A looming question in many minds is: Should I retain a job that's not 'sparking joy' or look elsewhere? The truth is, it depends. According to a recent survey, 70% of Americans believe we're heading toward an economic downturn. Because of this, concerns surrounding the risks of making a career move in today's market are at an all-time high.
It's impossible to mitigate 100% of the risk involved in switching employers. However, there's hope out there for those on the fence! Here are five 'must-knows' to consider before making a career move in an economic downturn.

5 STEPS TO TAKE BEFORE MAKING A CAREER MOVE

1. RESEARCH THE COMPANY
Before accepting any job offer, you'll want to research the contending company thoroughly. Recent company-related news, press releases, hiring initiatives, net promoter scores (NPS), and other determinants of success should play a role in whether or not a leap of faith is in your best interest. There are several questions you'll want to look into.
Is the company performing well?
From a financial standpoint, public companies must disclose information regarding their earnings and business financial statements. From a qualitative perspective, many companies' websites feature recent news publications, press releases, NPS information, and customer reviews. A quick Google search should reveal current financial trends and uncover notable updates regarding acquisitions or mass layoffs.
Is the company making hiring moves?
Review the company's job board for a glimpse into current hiring initiatives. Also, consider listings on Indeed, ZipRecruiter, Glassdoor, CareerBuilder, LinkedIn Jobs, and industry-related job listing sites. Hiring is always better than firing, so more roles listed may indicate increased funding or internal expansion.
Finally, is there knowledge to gain from word of mouth?
Consider asking your recruiter or hiring manager questions about the company. For example, asking how they've performed over the past year or during the COVID-19 pandemic could help you gain knowledge while also expressing your interest in the company's well-being. But, remember, balance is key. It's advisable not to pry too much into company profits, funding, or year-over-year performance.


2. EXPLORE THE INDUSTRY
The industry is another component to spend some time researching. This added insight is especially beneficial for those pursuing a job opportunity in an unfamiliar industry, vertical, or sector. Here's what you'll want to look into pertaining to the company's industry.
Is the industry 'recession-proof' or at-risk?
Some 'recession-proof' industries may include Healthcare, Life Sciences, or Validation (basically, those touching the health and well-being of our population). On the flip side, some vulnerable industries may include Retail and particular functions within the IT space. Specifically, entry-level or less experienced IT professionals are at greater risk of being laid off amidst an economic downturn.
How are companies across the industry performing?
Another way to learn industry trends is through other companies in that space. Is there news flying around about layoffs or workforce cuts in the industry you're considering? What can you discover or unearth surrounding your contending company's competition? How are those businesses performing? This research can be done by conducting Google searches, reviewing competing company websites, or investigating industry-specific hashtags on LinkedIn.


3. TAP INTO A KNOWLEDGEABLE RECRUITER
In times like these, it wouldn't hurt to befriend a Recruiter. Connecting with a Recruiter allows you to tap into a knowledgeable expert who knows the in's and out's of the industry, company, and role you're considering. Recruiters work closely with hiring managers from their client sites and know what pain points and successes the company or department is facing. In addition to insider knowledge, they can offer tips to prepare for interviews, optimize your resume, and revamp your cover letter.
Some other key benefits of partnering with a Recruiter include:
Getting hired faster
Tapping into risk-free and cost-free support
Gaining insight into and connection with the employer
Learning strategic questions to ask in interviews
Gaining consultative career advice and ongoing partnership
The right Recruiter could be your safety net. They're equipped to help you pivot your career search strategy over time. Ultimately, Recruiters set out to be your resource when you need them the most.


4. REFER TO SOCIAL MEDIA & EMPLOYEES INSIGHTS
Social media could shed light on current happenings within an industry, company, department, or role. You can search industry-specific and company-branded hashtags on platforms such as LinkedIn. These searches are often revealing. Since posts can be published by your contending company and its previous or current employees, you may encounter varying perspectives. Social media offers first-hand, insider knowledge.
Networking is also a great way to gather insights. If you're already connected to someone from the company, try reaching out to chat. Or, if you have a contact who can put you in touch with someone at the company, ask for a meet and greet. To get the most out of your networking experience, try asking targeted questions about your contact's experience surrounding the industry, company, recent company performance, or anything else that might steer your decision.


5. GAUGE YOUR GUT INSTINCT
The final, and arguably most important, piece of this puzzle is to look inward. As silly as it sounds, your gut instinct may be the deciding factor. By now, you've investigated every crucial element and hard piece of evidence that may affect your decision. So, what do you think? How do you feel about the company, industry, and people you've met throughout your journey? How do you feel about the role and security it may or may not provide?
If you're still apprehensive, try determining a backup plan. A backup plan adds a level of security to fall back on in the worst-case scenario. First and foremost, it's wise to retain your current job until you have a new offer in writing. Signed paperwork from your new employer is the most security you'll receive before accepting the role and may put your mind at ease. In addition, it's worth considering your financial savings, alternative career options, or continued education and skill development path if something goes awry.


IT'S TIME TO DECIDE!
If one thing is clear, there's much to consider before jumping ship from a stable job into potential uncertainty. For those facing challenging career decisions, I hope the above considerations provide clarity. The future of our economic landscape is undoubtedly questionable. It's your decision to either switch employers or wait for more security before proceeding with your job search. Equipping yourself with knowledge should instill confidence that you're making the right decision.