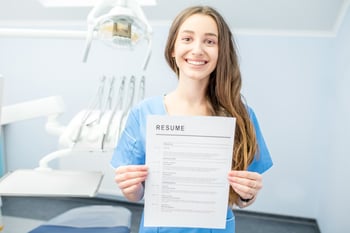 Whether you are a nurse, pharmacist, or doctor seeking a healthcare job, ensuring that your resume impeccably reflects your qualifications and experience is of utmost importance. Many candidates often overlook the importance of tailoring their resume to match the requirements of the specific job they are applying for. Failing to customize their resume accordingly can significantly hinder candidates' chances of standing out and securing the desired position. No need to worry though, we've got your covered with four tips to create a captivating healthcare resume to land your next interview!
1. Provide Precise Details
Whether you're an entry-level healthcare applicant or a seasoned veteran with extensive healthcare experience, you can improve your chances of landing an interview by optimizing your resume. Let's key in on the importance of providing thorough details within the framework of your resume below.
Lead with a professional summary
It's the first thing a hiring manager will see, so it should immediately capture their attention and speak to your strengths. It also sets the tone for the rest of your resume, so it's important to make sure it conveys confidence in your skills and accomplishments.
In your summary, use dynamic action verbs and modifiers to help you capture your unique skills and abilities. If at all possible, include figures to quantify the impact you had in your prior role. Focus on the job requirements for the position you're applying to, and be specific about how you can apply your skills to that role.
Highlight achievements
Think back over your work history and brainstorm times you have used your healthcare skills to create value for your employer. These achievements should include the time you restructured processes, improved operational efficiency, or made a significant impact on patient care.
Be mindful to optimize your resume for automated applicant tracking systems (ATS). ATS software screens out weak applicants before they're ever sent to a human recruiter. The software application is most often found in large healthcare organizations to help sort through a large volume of resumes, so it's especially critical to optimize your resume for them. Using keywords throughout your document can help ensure your resume passes the filtering process and gets to a hiring manager.
Showcase your Education
Most entry-level healthcare jobs require only a high school diploma, but some positions may require an associate's or bachelor's degree. Be specific about your degrees, including the major, graduation dates and coursework.
Add professional certifications: Most healthcare employers will look for certifications relevant to the job, so list yours if you have any. This section is also a great place to showcase your commitment to continuing education, even if it's not directly related to the job you're applying for.
2.Highlight your strengths
When you're applying for a job in the healthcare industry, there are a lot of different qualifications and skills you need to highlight on your resume. Some of these are technical, while others are more based on soft skills. The good news is that there are proven tips to help you improve your healthcare resume, boosting your chances of getting hired.
While you may be tempted to focus solely on the technical skills you've gained, it's also important to mention soft skills such as communication and empathy. These are important for many jobs and can be particularly useful in the healthcare field where bed-side manner is a critical element of patient care.
You can also highlight your ability to work well under pressure by highlighting certain experiences you've had that demonstrate this trait. For example, if you've worked in an emergency room or urgent care center, your ability to respond quickly and efficiently to patients is a valuable skill.
Another key aspect of your healthcare resume is to show that you're an ethical professional who holds yourself to high standards of behavior. Employers know that the decisions you make on a daily basis have an impact on their reputation, so demonstrating this can be a very important way to show they can trust you.
It's also a good idea to include other important experiences that can build your skills as a healthcare professional, like volunteering or attending a conference or seminar. These are the kinds of things that show recruiters and hiring managers that you're a well-rounded candidate.
3. Make It Easy To Read
A healthcare resume is a critical tool for job seekers. It is the first introduction a recruiter will have to you and your qualifications, so it needs to be easy for them to read. Use a clean and professional layout with consistent font styles and sizes. Additionally, make sure to use headings and bullet points to organize information and make it visually appealing.
Creating an effective and well-written healthcare resume takes some work. Whatever role you're applying for, it's crucial that your healthcare resume clearly highlights your qualifications and experience in a concise manner. It's also vital that you include the specific details an employer is looking for in the opening — and you should study each job description carefully to customize your professional summary accordingly.
4. Demonstrate How You Overcame Mishaps
In the healthcare industry, the prevention of patient harm is a critical focus, considering various factors that contribute to potential errors, such as medication mistakes, inadequate cleaning protocols, or accidental oversights with safety precautions. Acknowledging that perfection is unattainable, it becomes essential to proactively adopt measures aimed at error prevention.
One vital aspect of promoting a safer healthcare environment is cultivating a culture of honesty and transparency among healthcare professionals. By openly acknowledging and sharing mistakes, valuable lessons can be learned, leading to enhanced safety measures for both staff and patients. Demonstrating on your resume the ability to embrace and learn from errors, thereby improving the quality of patient care, becomes a pivotal component in advancing your career trajectory.
Final Takeaways to Create a great resume
Crafting a compelling healthcare resume is crucial for healthcare professionals seeking job opportunities. Tailoring your resume to the specific job requirements, focusing on achievements, and showcasing relevant skills and education are essential steps to stand out among other candidates. Lastly, exemplifying superb communication skills and prioritizing patient safety further solidifies your commitment to excellence in healthcare. By implementing these strategies, you can create a standout healthcare resume that increases your chances of securing the ideal position and advancing your career in the healthcare industry. If you're looking for additional advice to to elevate your chances of securing your dream job, check out these expert healthcare resume samples.
About the Author: Arno Markus BA, MSc., CPRW, CEO, and Founder of iCareerSolutions is a Multi-Award-Winning Certified Professional Resume Writer, a powerful LinkedIn Profile Writer, and Personal Brand & Job Search Strategist with global experience. Arno has done recruitment consulting in Helsinki, Amsterdam, and Toronto. He also worked in Nuclear Power for the Federal Government prior to switching to empowering professionals to achieve ambitious career goals full-time. Arno is an expert at dissecting job descriptions and marketing his clients to ensure they get where they want to be in their Career. He began his winning streak in 2017 receiving the National ROAR Award – Experience Writer Modern Design from the National Resume Writers' Association. Since then he has consistently ranked among the top writers in the North America. In 2018 he received many honorable mentions, including Best Technology Resume and Best Executive Resume. Then in 2020, he received two TORI Awards from Career Directors International, bringing the total recognitions he has received to 16 industry Awards and Honorable Mentions. Last year he received Best IT Resume by the Career Professionals Association, served as an Awards Judge, and was nominated for the Board of Directors for the National.