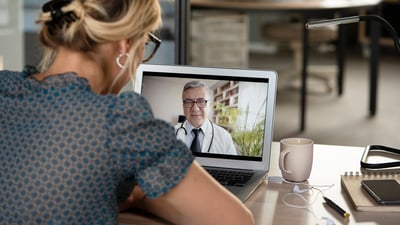 Communication is the foundation of effective healthcare. In the absence of good communication, healthcare providers aren't able to produce accurate diagnoses, and patients are incapable of conveying symptoms.
In the past, the majority of patient-provider communication was conducted face-to-face or via letters. This meant that patients had to spend significant time traveling to hospitals and doctors' offices, even if their query was minor.
Today, the telehealth industry is revolutionizing healthcare and closing the rural-urban healthcare gap. Patients can speak to an AI chatbot, video conference with their doctor, and send in their vital signs using wearable Internet of Things (IoT) technology.
HOW is Telehealth changing typical healthcare practices?
Beyond Virtual Visits
Telehealth boomed during the pandemic. Suddenly, providers were forced to adopt telehealth software, as patients couldn't safely visit their facilities. Medical technology developed during the pandemic continues to improve rapidly, and many patients continue to use telehealth technologies today.
In addition to video-conferencing and virtual visits, patients who use telehealth can access their "patient portal" to speed up their treatment. Patients who use a personalized portal can ask for prescription refills, message their provider, review test results, or schedule in-person visits. This puts the ball in the patient's court and gives them a sense of agency.
Providers also benefit from widespread telehealth adoption. Doctors and nurses can use personal health record (PHR) apps to collect data and store important information. In an emergency, healthcare providers can go to PHR apps to find patients' details like illnesses, allergies, and contact details. Ideally, PHR should be synced up with health monitoring devices that make use of the IoT.
IoT
The IoT refers to a web of connected devices and physical objects that seamlessly share data over the internet. The IoT has huge potential in healthcare, as wearable devices give doctors and nurses remote access to patient data. IoT devices can send in information like heart rate, blood pressure, temperature, and activity levels.
IoT devices can also help patients feel in control of their healthcare. IoT devices like smartwatches and wearable bands take the guesswork out of heart rate monitoring, so patients who have been told to exercise more frequently can track their progress and fitness.
The IoT is particularly useful for folks who live in rural areas. The rural-urban divide continues to afflict healthcare outcomes for people across the U.S. Those who live in rural areas tend to have restricted access to healthcare, as seeing a doctor or nurse requires a travel time that puts people off. Patients who live in rural areas can now send accurate, real-time information to their providers and get the exact same treatment as their urban peers.
AI
Artificial Intelligence (AI) is revolutionizing industries across the globe — and healthcare is no different. AI can be used to improve patient care and help funnel incoming healthcare queries to the correct department.
AI chatbots are usually used in sales to funnel customers to the correct sales representative. However, chatbots can also support patients by asking a few easy questions before a real human representative jumps into the chat. An effective chatbot figures out the nature of a patient's query, and redirects them to the correct channel.
AI can also help healthcare providers when they're seeing patients. AI isn't capable of making diagnoses alone, but it can help physicians assess and evaluate patients. A quick input of a patient's condition can pull up a full list of potential diagnoses and help healthcare providers provide better-informed treatment. This preemptive use of AI minimizes consultation times and transforms the customer experience for all patients.
HIPAA
The explosion of technology in healthcare is largely a good thing for patients and providers. Patients can access their portals around the clock, and providers can spend more time focused on their appointments.
However, the new wave of technology requires some serious changes to the Health Insurance Portability and Accountability Act (HIPAA). HIPAA ensures that patients can share details of their condition in the knowledge that everything they say is entirely private and confidential. Personally identifiable information is kept safe thanks to HIPAA, meaning malicious actors cannot undermine the integrity of patient-provider communications.
Providers that utilize the IoT and AI need to create privacy compliance programs that address privacy concerns and ensure that networks are kept secure. Managers in charge of privacy compliance programs should keep all devices up to date and should run constant surveillance on their own devices.
Providers are increasingly concerned about the way that cell phones are changing healthcare. Some patients use their phones during a consultation and others use digital content to catalog the concerns and queries they have. This puts some providers in an awkward position, as using a phone during a consultation brings the outside world into the otherwise private session.
There's no simple solution to HIPAA and emerging communication technology. However, healthcare providers must remain vigilant and adapt their practices to overcome modern privacy risks.
FInal THoughts
Patient-provider communication systems are transforming healthcare and improving health-related outcomes for millions of patients. Virtual visits have been a catalyst for telehealth, which has blossomed into an industry that uses patient portals and the IoT to improve patient agency and speed up communication.
About the Author: Miles is an independent writer with a background in business and a passion for tech, psychology, news, and simply helping people live happily and fulfilled lives. He has lived and traveled throughout the United States and continues expanding his awareness and experiences. He is most likely mountain biking or kicking back with a cup of tea when he is not writing.