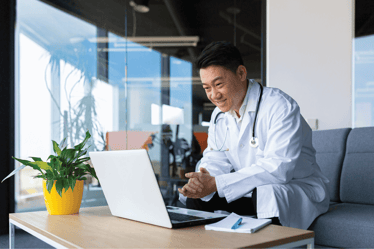 Telehealth is on track to secure $224B in revenue by 2030! According to a Precedence Research report, the market is projected to grow at a compound annual growth rate (CAGR) of 18.8% from 2021 to 2030. This exponential growth shows that telehealth is not only here to stay but is also just getting started.
Across healthcare sectors, today's patients want the choice between in-office visits and virtual alternatives. Shifting industry demands have steered providers' decisions to expand how, where, and when they offer healthcare. While digital or virtual healthcare may sound like a "no-brainer," ensuring your organization's telehealth readiness requires the right mix of technologies, processes, talent, and partners.
If you're on the fence about expanding your offerings to include telehealth, here are a few key points to consider.
3 KEY CONSIDERATIONS FOR A NEW DIGITAL PERSPECTIVE
1. Telehealth Offers Patients a Host of Hidden Benefits
The COVID-19 pandemic brought about both negative and positive impacts on the way we offer healthcare. One of the lasting, positive effects is the rise in telehealth capabilities and offerings. The widespread welcoming of telehealth increased accessibility to healthcare and, for some, removed a significant barrier to entry. But what are some of the hidden benefits today's patients reap?
Virtual appointments reduce issues surrounding physical proximity and/or accessibility. Telehealth is an excellent option for those with mobility limitations, compromised immunity, or less access to transportation.
Telehealth also offers scheduling flexibility - a significant bonus to those with busy schedules. This flexibility greatly benefits caretakers, students, those with inflexible or uncommon work schedules, as well as many others.
Telehealth also opens the door to more specialized or reputable care, especially for those living in rural areas. Patients can now engage with doctors and healthcare practitioners from a great distance without leaving their homes. The removal of geographic restrictions and barriers increases the number and quality of options for those who need them.
It's important to note that, by nature, telehealth isn't built to be a one-size-fits-all solution. It proves to be most handy for follow-ups or recurring appointments that don't require a physical presence. Professionals and their corresponding patients practicing mental healthcare may reap the most benefits from telehealth due to what's involved in a typical visit.


2. Telehealth is Becoming Safer & More Secure for Businesses
The technology utilized in telehealth is a critical component to consider. EMRs such as Epic, Cerner, Meditech, CPSI, and Allscripts are the most reputable today, they are also the most secure. Utilizing proper technologies when embarking on your telehealth journey is essential to a successful strategy.
Compliance with HIPAA regulations is vital for healthcare providers. Slip-ups can be costly to your organization and your reputation. As in any area of healthcare, telehealth professionals must abide by HIPAA regulations. To practice over state boundaries, they must meet the criteria for interstate compact licensing. Medical professionals operating from home may need to take extra precautions. Some common HIPAA violations to look out for include:
Lack of Adequate Risk Analysis & Management
Without a solid understanding of the risks involved in telehealth, you may be setting yourself up for disaster. It's important to properly analyze and manage the integrity, availability, and most importantly, the confidentiality of electronic PHI to mitigate this risk.
Inadequate Employee Training
Untrained or poorly-trained employees may jeopardize both patient health data and the security of your entire business. It's crucial to have robust HIPAA and compliance training programs in place to keep your organization afloat.
Breaches of Privacy
Cybersecurity and data breaches are two major concerns that plague telehealth. Failure to report a breach within the specified time frame may result in serious monetary and business penalties.
HIPAA should be at the forefront of the conversation and your hiring strategy when hiring telehealth experts. Many healthcare providers turn to external talent vendors, such as Yoh, to mitigate risk. We help our consultants and clients maintain compliance through in-house HIPAA training, laptop encryption software, and risk assessment procedures.


3. Current Talent & New Candidates are Transitioning Careers
Another perk in the current telehealth candidate market is that, in most cases, great talent is right at your fingertips! Many key players in your current workforce have the skills and experience to leap into a telehealth role quickly. Nurses, Nurse Practitioners (NPs), and Physicians Assistants (PAs) are prime examples of this talent. A new telehealth program may empower members of your currently-employed workforce to take their careers in a new, digital direction.
It's also important to consider where fresh talent can fill gaps on your team. Hiring a mixture of full-time (FT) and contractor support is a great way to stay agile when it comes to telehealth. A fundamental way today's organizations maintain schedule flexibility and patient satisfaction is through the use of contractors. Organizations that have caught on to this trend are already reaping the benefits contractors offer, including:
Dependability & Flexibility
Whether you need one Nurse or several Nurses, NPs, and PAs, contractors offer flexibility in how your team is staffed. A healthy contractor hiring strategy could help you backfill those on leave and still time-sensitive gaps when needed.
Off-hour Telehealth Support
Hiring dedicated Nurses, NPs, and PAs for off-hour telehealth support can open the door to the flexibility today's patients desire.
Seasonal Telehealth Support
Seasonal telehealth contractors can cover the gaps when your full-time support is out of the office. This could include federal holidays, high-traffic vacation timeframes, and peaks and valleys in your busy and off-seasons.
Bridging the On-site and Virtual
Supplementing your staff to bridge the on-site and virtual is also a great strategy when building your workforce. The right mix of contractors and FT employees can allow you to offer the best quality of service whenever and wherever your patients need you the most.
Remember, partnering with a healthcare talent supplier is a great way to stay in tune with today's candidate market. Experienced Healthcare Recruiters have their finger on the pulse surrounding industry hiring trends and best practices. They can serve as a matchmaker to pair your organization with the best telehealth talent to suit your needs.
NEXT STEPS FOR MOVING TOWARDS THE DIGITAL
Despite the reduction in COVID-19 restrictions and re-opening of healthcare offices and clinics, telehealth remains a thriving and viable option for patients who want and need it. Of course, telehealth has its time and place. It isn't a universal answer by any means and won't necessarily lead to a fully-digital future. Telehealth may not work for every single organization, practice, visit type, or patient. Instead, telehealth is here to serve as an additional option to increase the convenience and accessibility of healthcare.
Hiring the right team is crucial to a successful telehealth solution. Your quality of service and care will only be as great as the medical professionals you have staffed in patient-facing roles. The right candidate for you is out there - you just need to find them!