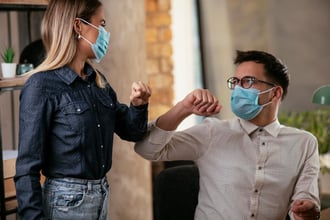 In the past, occupational health did not cross the minds of most employers as they considered their employee offerings and benefits. It was really only considered for more physical jobs like manufacturing and construction. Nowadays, this certainly is not the case! Driven by a push for workplace wellness, more companies than ever are adding health and wellness programs to their employee offerings.


THE RISE OF OCCUPATIONAL HEALTH
The general public's awareness surrounding health and well-being has skyrocketed. Before COVID-19, we were already noticing the signs of a more health-conscious world. Now, after fighting a global pandemic for over a year, many can't even imagine stepping into an office building without a fool-proof plan in place to maintain employee health and safety.
Retaining a healthier workforce starts with occupational health. Typical industry practices are rapidly changing, and the need for occupational health offerings on a company level is no longer an option but a requirement. Employees now expect their employers to go above and beyond, providing them with robust occupational health offerings, including preventative health, rapid screenings, temperature checks, immunizations, disease prevention, stress management, emergency planning, and more.
These offerings benefit both the employee and employer. More robust occupational health offerings play a critical role in increasing employee retention - a must-have in today's competitive, highly skilled talent market. Going beyond the traditional offering shows your workforce that you care about their physical and mental health and well-being. So, what are you waiting for?
Watch the video below to learn how Yoh is continuing to enhance workforce health and wellness - and has been since its early years.
A CUSTOMIZED PROGRAM UNIQUE TO YOUR NEEDS
It's paramount that companies partner with an expert that knows the health care and occupational health spaces inside-out. Yoh has spent decades building fully customized health and wellness programs and solutions for businesses of all shapes and sizes. Our arsenal of expert professionals, in tandem with cutting-edge technologies, allow us to remain flexible and continually strive towards innovation while meeting your company's specific needs. As a trusted partner, we are committed to sourcing, vetting, and delivering the best skilled workers to customize a unique occupational health offering for your workforce.
What's in a typical package?
Traditional health care offerings
Screenings
Wellness workshops
Rapid health exams and wellness tests
Temperature screenings and PPE fit testing
Annual flu shots and immunizations
Disease prevention programs
Stress management and counseling
Disaster and emergency preparedness planning
What do our teams do?
Manage the administration and entry of health data
Maintain safety and security of health data
Support case management
Ensure compliance with all HIPAA laws, Osha rules, and state and federal regulations
Help you achieve your unique goals on time and budget
Our Rich history
Not convinced yet that Yoh is the premier staffing service? Let's take a look at our previous accomplishments. We were directly involved in sourcing talent that helped put man on the moon. Since then, we've hired some of the best developers that went on to create some of the globe's most successful applications. Amid a pandemic, our experts worked diligently to introduce science and health professionals to address COVID-19 for companies. Our reputation precedes us, but we are not complacent. Instead, we are committed to seeking innovation and advancement for a variety of specialty practices.