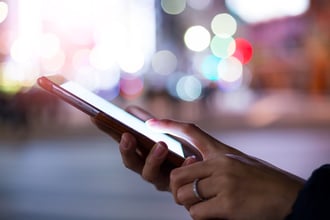 In this digital era, mobile app technologies are changing every day. To grow sustainably and substantially, you need to be completely aware of industry trends. Creating an extensive and relevant online presence for your business is critical in developing an app because mobile device users are increasing daily.
According to Statista, the mobile app industry will generate around $940 Billion in revenues by 2023. Let's look around the world for the latest mobile app development trends or technologies.
1. AR/VR (AUGMENTED REALITY/VIRTUAL REALITY)
Augmented reality technology duplicated real-world environments in a digital setting. The technology digitally enhances and presents real-world objects to users to feel connected and present with that particular environment. Sectors, where there is a good scope for developing AR-enabled apps, are education, tourism, marketing, workspace communication, healthcare, e-commerce, gaming apps, defense, meteorology, etc. There are real-world examples of such apps like Disney coloring book, Pokemon Go, Gucci-try on shoes, Ikea place, GPS drive, U.S. Army, Timberland, Netflix, Sephora, Pepsi, etc.
Virtual Reality technology is for the complete virtual representation of a real-world environment. The simulated experience of real-world objects can be similar or different from the real version. But the presentation is immersive all the time. Tourism destination exploring, education, entertainment, designing, engineering, healthcare, training, and many other areas are substantially using VR driven apps to improve the overall user experience. Real-world examples of VR based apps are YouTube, Google cardboard, Incell, Orbulus, Galaxy, KingTut VR, Unimersiv, etc.
2. IoT (INTERNET OF THINGS)
Internet of things (IoT) is a technology that connects real-world devices or objects with digital software or technologies over the internet. By establishing such a network, data can be exchanged within the network, and devices can be connected to access multiple devices from a single place. For examples, Alexa or Google Home device, they are IoT based devices. IoT's concept serves greater value to many sectors like healthcare, the manufacturing industry, transportation industry, home appliances, digital wearable devices, industrial setting, agriculture, retailing, constructions, and others.
IoT-based apps will grow tremendously as different types of technologies, and demand for their interconnectivity will grow. Smart home devices, wearable devices, connected cars, smart grids, smart cities, and others are real-world IoT examples.
3. BLOCKCHAIN TECHNOLOGY
People's transactional records (blocks) are stored in several databases (chains) known as Blockchain technology.
In banking, investing, or cryptocurrency over the last ten years, you may have heard about Blockchain, the technology used to keep records in all these sectors. This technology revolves around the importance of maintaining and distributing large amounts of data in its proper form, and the process is transparent. Characteristics like greater security, transparency, and distribution make this technology one of the most anticipated app development trends.
Bitcoin is a very popular example. Blockchain technology can be used to share medical data, international transactions, real-time operating systems, personal identity security, anti-money laundering tracking, supply chain, logistics monitoring, and others.
4. ARTIFICIAL INTELLIGENCE(AI)/MACHINE LEARNING
Artificial Intelligence technology empowers machines to perform complex tasks by simulating human behavior or human intelligence. Machine Learning is a subset of AI. It is a science of designing and applying algorithms based on past data to perform complex tasks.
Chatbots and Google assistant are examples of day-to-day AI-powered applications. To achieve more excellent operational capability, perform more complex tasks, and generate more revenues for businesses, AI/Ml powered technologies will be used by more than 50% of companies globally. AI can be used in the widest range of applications like Image recognition, Sentiment analysis, Speech recognition, Online Transaction fraud detection, and E-commerce.
5. CLOUD COMPUTING
Cloud computing provides different types of online services like applications, storage, networking, language processing, or even artificial intelligence to other users as they require it. It is on-demand services acquiring the technology. This technology benefits from greater accessibility of applications and data, cost-saving business, scalable computing, greater security, automatic updating, and mobility. Making it among trending technology for several years and still counting. The most popular cloud-based apps are Google Drive, Evernote, Dropbox, SalesForce, WIX, Canva, and many others.
6. BEACONS
Beacons are small devices powered by Wi-Fi or Bluetooth technologies. And they are used to send signals to devices nearby them. So, the primary purpose of beacons is to transform information around. But can be used in support of different technologies to create a new user experience. Beacons are of different types, like a portable beacon, video beacon, AI beacon, USB beacon, etc. It can be used in Retail, Healthcare, Travel, Education, Transportation and logistics, sports, events, and many more sectors.
7. ON-DEMAND APPS
On-demand apps are created to leverage services right when you need them. Like a cab booking app or food delivering app, On-Demand apps are trending as demand for different services is growing every day. These apps connect users with all kinds of service providers and solve many day-to-day problems.
8. MOBILE WALLET APPS
Mobile wallet apps allow you to make financial transactions from your mobile devices and simultaneously let you store your device's payment information. The information storage process is encrypted, making it more secure and safe than physical financial transactions. Google pay, Paytm, Amazon Pay, pay pal, Phone Pe and the trend is getting on and on.
9. CYBERSECURITY
The ever-expanding online landscape faces many security threats like cyber-attacks and hacking, malware, and viruses, putting all essential data in danger. So, the emphasis must be on developing cybersecurity apps, actually more than a trend; it is a prerequisite application for the online world.
10. 5G TECHNOLOGY
5G technology is not merely an advancement of the 4G version; it is developed for the entire overhaul of the current technology and experience. It comes with many features and benefits like stronger connectivity, a much lower latency rate, higher connection density, high-speed sharing of data, and a complete mobile experience.
5G will impact business development in all aspects, and all the online technologies discussed here, and many more will be embedded with it.
CONCLUSION
To improve your business development process, you will be looking for all the software development trends and technologies. An excellent app development idea merged with the best technologies will generate a trending app that will be beneficial for your business and customers.
About the Author: Juned Ghanchi is a chief marketing officer at IndianAppDevelopers. A mobile app development company in India specializing in web and mobile app solutions to startups and established companies. He regularly publishes expert presentations and technology tips on various blogs and magazines.