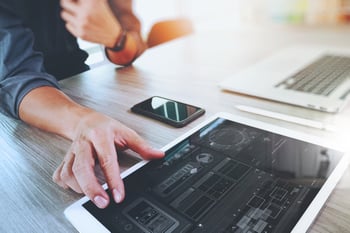 Technology is evolving every day. Are you? Nowadays, digital acceleration is a priority across sectors. I believe the industry that has been slow to adopt technology will see it as a key enabler to recover from the economic disruption caused by the COVID-19 pandemic.

With the constant evolution of technology, it is essential to keep up to date with the latest developments and new technologies.
So, let's look at the latest technologies that can impact the working culture of 2021
1. Artificial Intelligence
AI is now an essential part of our daily lives. AI technology can perform increasingly complex tasks. Being with the HR Tech industry for the past few years, I have noticed that with the evolution of AI in the recruitment industry, it has completely changed the face of the hiring process. It has drastically reduced the workload of HR professionals. Let us see how AI is proving itself a beneficial investment for the HR industry.
AI IN MATCHING

CANDIDATES: Many AI software provide matching recommendations for resumes/jobs to recruiters and candidates. These recommendations will provide excellent candidate experiences and save recruiters' time to find the right fit.


AI FOR SCREENING

CANDIDATES:

The use of AI tools like resume parser can help you quickly find the perfect candidate. It helps in extracting the data from resumes and saves information in pre-designed data fields like name, contact details, qualification, etc. This not only saves time but also fastens the recruitment process.
2. Augmeneted Reality and Virtual Reality
VR and AR are some of the emerging technologies that can change the way of working. AR is the blend of both real and virtual worlds. Whereas VR has initially been used for gamification, it is also playing an essential role in employee training. Utilizing AR and VR technology in the recruitment process can lead to a more engaging and immersive experience. On the other hand, MR (Mixed Reality) is a mix of both the AR and VR technologies, which is a precisely more attractive technology for the coming year.
3. Cybersecurity
You might be surprised to hear that cybersecurity has made it in the list of top technologies of 2021. With the increase of cybercrimes, the demand for cybersecurity is also increasing. Now cybersecurity is on the topmost priority of organizations as they adapt to the post-COVID-19 world. Employees are working remotely; their devices and identities are the new security perimeter. As cybersecurity is evolving, hackers are becoming even more advanced. It helps an organization to work without fear and secure their data.

4. Transparency and Traceability
Some people have already recognized the risk of managing and securing personal data. Governments are also applying strict rules to ensure they do. Advanced technology, like transparency and traceability, is an important element to support such kinds of digital morals. Such technologies give us the means to create more intelligent supply chains that are capable of tracking the data.

5. Empower with Edge Computing
Edge computing is a concept that has quickly spread from the telecom sector to almost all industries. Organizations are moving towards an emerging technology that is designed especially for solving data problems in such a way for bypassing the latency, which is affected by cloud computing. Edge computing is much more advanced than cloud computing.

With the pandemic hit, most of these strategies have already picked up their momentum, but the predictions for future years suggest the biggest changes yet. Undoubtedly, advanced technologies will become more powerful and reshape the future of industries. I believe investing in such technology will provide remarkable growth and results.



Author's bio: Lovepreet Dhaliwal works with RChilli Inc, a leading CV parsing software provider which helps in speeding up your recruitment process. An MBA in HR and marketing, he has over eight years of work experience in business development and strategic sales.