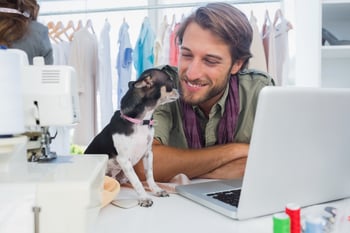 Work can be stressful, but dogs are here to help. Increasingly, companies are recognizing the benefit to employees of hanging with pups all day.
To celebrate National Bring Your Dog to Work Day, Rover.com released their inaugural Best Dog-Friendly Companies 2019 report. Among this list are companies including Amazon, Airbnb and Petsmart.
American businesses lose $300 billion annually to lowered productivity, absenteeism, health-care, and costs associated with stressful situations. These successful companies are opting for sharing the office with dogs to help alleviate these stressors.
Becoming a dog-friendly office can impact workplace satisfaction. A recent Rover survey of more than 1,200 U.S. dog owners found that 75% of pet parents who are able to bring their furry family members to the office are more likely to stay with their current employer.
They're more engaged too: two-thirds of employees who currently bring their dog to work feel strongly that they're more likely to approach and start a conversation with a coworker if they have a dog with them.
Phil Tedeschi, Rover's human-animal behavior expert and executive director of the Institute for Human-Animal Connection at the University of Denver, indicates that having pets in the workplace is often welcomed by many employees, not just pet parents.
"The bond between humans and animals is good for human health and can build connections in the work environment," he said. "Pets often allow for engagement and shared activity, in turn, strengthening bonds among coworkers."
Companies are recognizing the impact dogs can have on fostering a collaborative environment.
"Social networks that are developed based on shared concern over animals can lead to increased human-human interaction," Tedeschi explains.
So spending time with dogs doesn't just make us feel better—it helps us work better.
---
---
In fact, Central Michigan University released a study showing that bringing dogs in the workplace resulted in increased trust and collaboration between coworkers. And according to Rover.com, 45% of dog owners working in dog-friendly offices say they are more likely to approach a coworker to chat if that coworker has a dog with them.
The pressure often associated with working in an office environment can be both rewarding and taxing. Companies are increasingly coming up with ways to alleviate this with perks like in-office yoga, chair massages and a bevy of snacks.
It should come as no surprise that employees additionally seek emotional comfort at work. In fact, 25% of pet parents who bring their dogs to work value their emotional support as the number one reason they like to work alongside office dogs. And that emotional support can be impactful: In a study conducted by NPR, office workers showed significantly lower stress levels when they were allowed to bring dogs to work.
Phil Tedeschi explains, "Beta-endorphin, oxytocin, and dopamine—among other health targets—increased in both humans and their dogs during time shared, demonstrating that time spent together is physiologically and psychologically beneficial for both species."
Bringing your dog to work as a company-wide benefit is becoming more popular as a tool for employee recruitment and retention, and it's certainly a hot topic in the press.
As we watch benefits packages becoming more competitive, it will be interesting to see where companies land on pooches as a desk companion.
Author Bio: This blog was written collaboratively by the staff at Rover. Founded in 2011 and based in Seattle, Rover.com® is the world's largest and most trusted network of five-star pet sitters and dog walkers. To learn more about Rover, please visit www.rover.com.