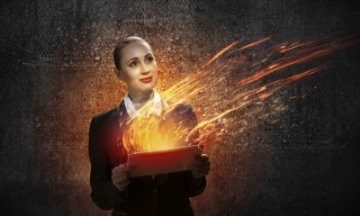 In my last blog we touched on top trending technology staffing solutions from HRTech; not coincidentally mirroring the concepts that perpetuate throughout your networks. Really, it's no secret that pushing your company's operations to run simpler, faster/portable and cheaper is the name of the game! Tired of hearing about using the cloud, getting mobile optimized, customizing content to the individual or leveraging big data? Face it; these concepts are here to stay.
And really, if you haven't had a chance to attend an event like HR Tech or investigate the technology that proliferates within our space, you are truly missing an amazing world of innovative and exciting progress. So with all these fascinating options, avoiding "shiny new object syndrome" is particularly relevant.
Four Simple Strategies for Buying HR Technology:
Solve a Problem or Realize a Goal: We all have business challenges, directives and aspirations; to get the most out of HR technology, seek to align with a solution that addresses multiple objectives. Don't get caught in the "keeping up with the Joneses," but rather focus on what will provide your company the most value and increased productivity/results. In doing so, do not overlook whether the desired innovation makes sense for your culture and therefore can be successfully adopted internally.
Find a Partner Not a Vendor: The problem will not be finding technological options, but whom to engage in a fruitful partnership. Anyone can sell you an out-of-the-box product, but few are thoughtful enough to care about your particular needs and seek to adapt (where possible) to your infrastructure, culture and desired outcomes. A partner will not tell you that they can solve every objective, but will counsel you on potential options, encourage mutually beneficial innovation, and will weather the various undulations in your business continuity.
Get Data and Use It: Seriously, if you're not meticulously tracking data available within your organization and preparing to leverage this for current and future decision-making, you will start to be lapped by competitors. Evaluating and leveraging empirical outcomes versus well-intentioned but oft misaligned perceptions/instincts is what is accelerating business today. We as humans are predisposed to recognize patterns, but that doesn't mean that we're not seeing what we want to see, so whatever your goals with new technology, allow a partner to help conclusively track and decipher your own big data. Actionable Data = Driving Outcomes.
Execution, Adoption and Sustainability: If only it were as simple as aligning a technology partner to your needs and then driving towards desired results. What do they say about best laid plans? Let's be honest, no technology project is as simple as plug and play! Very specifically defining the needs of a new implementation has great impact on your ability to ultimately execute and derive the value of that technology. From internal resources needed for user acceptance testing and working out post-launch bugs, to training and more, this all requires time. Do you have these resources, or can you acquire them? In my experience the sustainability factor can be the death knell of an otherwise beautiful partnership, so challenge potential partners on accurately laying out required resources as well as best practices from their star client relationships; ensure you are setting yourself up for success.
Using these simple buying basics will help to keep you focused and aligned to the technologies and strategies most suitable for your company. Remember that you're embarking on a journey, not a destination. Technology is changing and improving at rapid rates, so if you truly engage a new partner they will adapt and grow with you as the industry and its tools continue to mature.
This blog was written by Cindy Lombardo. With nine years of experience in the staffing industry having worked in the capacities of recruitment, project management, training and marketing, Cindy currently focuses on developing and implementing digital strategies that target and attract talent across all industry sectors for both national and international employment opportunities. She is passionate about following emerging applicant trends as well as educating others about both the growing talent deficit and strategies that can drive better recruitment efficiencies and return on investment. When she's not working on candidate marketing strategies, Cindy spends her time outside of work running a non-profit opera company, practicing judo and playing with her crazy dog Scruffy.