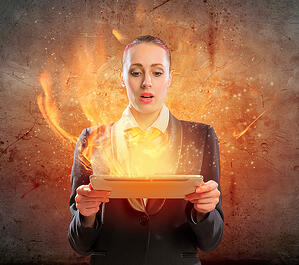 It took me a week to recover from the awesomeness that was HR Tech, the world's largest Expo of HR technology products and services. Now that I've had time to noodle over the wonderful conversations and demonstrations on the technology-based staffing solution, I want to share with you what is just around the corner for the recruiting industry!
One thing is for sure, we are in the midst of a technological renaissance for the HR and Recruitment sector. From burgeoning start-ups to new partnerships and the release of enhanced capabilities from industry bedrocks, the expansive expo hall at HR Tech was a testament to the abundant innovations and technological options that abound.
But that's just the challenge; which solution (if any) do you need for continuing to accelerate your business operations?
Let's start first with reviewing some of the types of technology-based staffing solutions that were trending at #HRTech (spoiler alert, we're talking the industry catch phrases du jour; they top the list for a reason!).
Top 4 Trending Technology Staffing Solutions
Cloud / SaaS Products:

It all boils down to being faster, cheaper and simpler. Moving infrastructure offsite and providing simple browser based / desktop applications accelerates the learning curve and user adoption all while allowing companies to better manage their costs. Not to mention accessibility, making data and processes portable keeps businesses running more efficiently as well as providing opportunities to better serve one's client base on demand. Cloud services are not going away anytime soon!
Big Data Gives Way to Predictive Analytics:

Wait what?! You're not even on to the big data bandwagon yet and we're already talking about moving into the prognostication era?! Data for the sake of measurement and evaluation was only step one, with the sheer availability of information that is daily growing by leaps and bounds, coupled with increasingly intelligent programming, this step was only a matter of time. Want to know who to hire, who is one step out the door, what parts of the country to expand your company, those capabilities are all in the works!
Mobile Enablement:

Face it, you're tied to your favorite mobile device and so is everyone else (including those whose only touch point with the net is via these devices). So given the proliferation and reliance we have on mobile technology why aren't your business infrastructures let alone your career site mobile optimized?! There's no getting around this one, you need a strategy for connecting via a native experience or you will begin seeing diminishing returns in business behaviors and interactions with both your internal and external audiences.
One Size Fits None:

Frankly no one cares about your one size fits all marketing dribble or out-of-the-box software solutions. Everyone and every business is unique (even if they aren't) and expect to be treated as such. Therefore, company's abilities to understand preferences (whether it's an employee's desired career path or a potential candidate's job interests) and then correctly targeting and disseminating the appropriately aligned content or actions is increasingly important to keep individuals engaged. It's all about personalization, gratitude and recognition of individuals; no more homogenized processes that tout our way or the highway, because let's face it, people have options and they don't need much encouragement to exercise them.
Great, so you may be thinking that the trends from HR Tech aren't necessarily earth shattering (you've been hearing the buzzwords), but what do you need to implement for your company? Next post we'll circle back to the concept of avoiding "shiny new object syndrome" and focus in on simple strategies for evaluating and buying HR technology. In the meantime, let me know which technologies strike your fancy…
This blog was written by Cindy Lombardo. With nine years of experience in the staffing industry having worked in the capacities of recruitment, project management, training and marketing, Cindy currently focuses on developing and implementing digital strategies that target and attract talent across all industry sectors for both national and international employment opportunities. She is passionate about following emerging applicant trends as well as educating others about both the growing talent deficit and strategies that can drive better recruitment efficiencies and return on investment. When she's not working on candidate marketing strategies, Cindy spends her time outside of work running a non-profit opera company, practicing judo and playing with her crazy dog Scruffy.