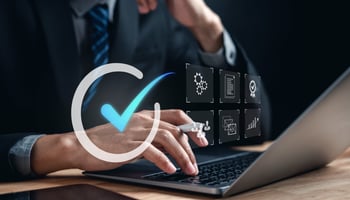 According to the U.S. Bureau of Labor Statistics, overall employment of software developers, quality assurance analysts, and testers is projected to grow 25 percent from 2021 to 2031, much faster than the average for all occupations. Security roles within quality assurance are also expected to benefit from this projected growth as companies architect systems to combat the growing number of cyber-attacks. Professionals looking to break into the world of cybersecurity have arrived at the right place! This blog will define Security Quality Assurance and provide an overview of the responsibilities and tips for success for four key roles.
What is Security Quality Assurance?
Security Quality Assurance, often referred to as SQA, is the process of ensuring that software and systems meet established security requirements and standards. It involves testing software and systems for potential vulnerabilities that could harm both the organization and end-users.
SQA can be compared to a lock on a door. Just as a lock is designed to keep unwanted intruders out of a building, SQA is designed to keep unwanted threats out of a system or application. However, just as not all locks are created equal, not all security measures are created equal. A poorly designed lock may be easily picked or bypassed, just as a poorly designed system may be vulnerable to attacks.
To ensure that the lock is effective, it must be tested and evaluated to identify any weaknesses and ensure that it meets the required standards. Similarly, Security Quality Assurance involves testing and evaluating security measures to identify vulnerabilities and ensure they meet the required standards for protecting against threats.
4 Roles in Security Quality Assurance
1. Security Assurance Analyst
Role Responsibilities
A Security Assurance Analyst protects an organization's digital assets - including data, networks, and applications. They develop strategies to mitigate external cyber risks by recommending improvements to existing systems. This is achieved by conducting risk assessments, testing systems and applications for security flaws, and monitoring security incidents and threats closely.
HOW TO BE SUCCESSFUL IN THIS ROLE
To succeed as a Security Assurance Analyst, one must have a deep understanding of security principles and practices and a strong knowledge of software development methodologies and testing frameworks. Additionally, they should have experience with assessment tools and technologies, along with the ability to analyze and interpret data to identify potential vulnerabilities and recommend mitigation strategies. Lastly, they should be keen on reading industry publications to adopt best practices and address the changing complexion of cyberattacks.
2. Security Test Engineer
Role Responsibilities
A Security Test Engineer is responsible for designing and executing system tests to identify and fix vulnerabilities. This role is exceptionally technical and deploys many tools and methods to test the software – including penetration testing, vulnerability scanning, and architecture review. Security Test Engineers proactively bolster their organization's systems by identifying weaknesses before cybercriminals exploit them.
HOW TO BE SUCCESSFUL IN THIS ROLE
To be successful in the role of Security Test Engineer, it is necessary to have strong analytical and problem-solving skills to identify and fix vulnerabilities. Additionally, it is in your best interest to attain a degree in a computer-related field, such as cybersecurity or computer programming to develop technical skills in software development and/or cybersecurity.
3. Security Compliance Analyst
Role Responsibilities
A Security Compliance Analyst ensures that an organization's information policies and practices comply with industry regulations, legal requirements, and best practices. They develop and maintain policies and procedures, conduct risk assessments, and create compliance audit programs.
HOW TO BE SUCCESSFUL IN THIS ROLE
To succeed in the role of Security Compliance Analyst, one must possess a deep understanding of information principles and compliance regulations and experience in developing and implementing policies and procedures. They must also adapt quickly to changing compliance requirements and industry standards. Overall, a successful Compliance Manager is committed to continuous learning, collaboration, and connectedness.
4. Security Operations Center Analyst
Role Responsibilities
A Security Operations Analyst monitors and analyzes an organization's security posture to identify and respond to potential threats and incidents. They use security information and event management (SIEM) tools and other technologies to monitor network traffic, system logs, and other data sources to detect and investigate suspicious activity before issuing a report.
HOW TO BE SUCCESSFUL IN THIS ROLE
To succeed as a Security Operations Center (SOC) Analyst, one must possess a strong understanding of defense principles and practices; plus experience in analyzing and responding to security incidents. Attention to detail and strong analytical skills are essential, as SOC Analysts must be able to identify and respond to potential threats quickly. Additionally, SOC Analysts must be able to work effectively in a fast-paced environment that accounts for the growing diversity of cyberattacks.
Final Takeaways
Investment in our digital security workforce is more important than ever to protect sensitive data and systems in an increasingly complex and dynamic digital landscape. As cyber criminals worldwide design nefarious viruses aimed at stealing sensitive data, the demand for cybersecurity professionals is expected to rise. If you're looking to land a career in Security Quality Assurance and stop hackers in their tracks, connect with our network of highly skilled cybersecurity recruiters here.