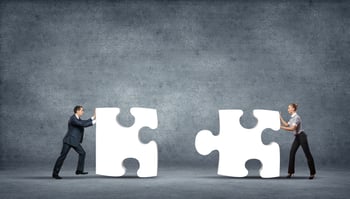 According to a recent Cybersecurity Jobs Report, there will be as many as 3.5 million unfilled positions in the cybersecurity industry by 2021. For many organizations, the likelihood of that perfect, all-star candidate being available aren't very high. And if there exists a need to hire multiple cybersecurity pros, finding fully qualified, seasoned vets just isn't going to happen. There aren't enough to go around.
And while that's distressing news for many employers, it's certainly not all doom and gloom. There are strategies businesses and hiring managers can use to fill that talent gap and eventually find who they are looking for—someone just waiting to blossom into a new, more challenging role. It all starts with instituting more creative hiring practices.
Here are some of our tips and tricks for getting creative when it comes to finding and hiring cybersecurity professionals.
3 Tips to Fill Cybersecurity Positions
Broaden Your Definitions of "Qualified"
In a world where free agent cybersecurity pros are virtually nonexistent and recruiting passive employed pros is like finding a needle in a haystack, hiring managers have needed to broaden their definition of what they consider a "qualified cybersecurity pro." In this climate, that means considering someone with 3 years of experience rather than 8-10. It means taking a chance on someone who's spent time working in cybersecurity and while he may not have direct experience in cloud security design, is open to learning on the fly. If the person isn't located near your office headquarters, it may be time to consider if remote work is a possibility.
Finding an IT professional who checks off all the boxes is hard enough; finding the perfect cybersecurity candidate is an entirely different ballgame. It's important to have a nice-to-have list of qualifications when hiring, but considering how few candidates there are out there, it's even more critical to cut that list to just a few must-haves (and even that can be fluid) when searching for cybersecurity workers.
---
---
Consider More Contract Labor
When it comes to highly specialized, highly technical labor like cybersecurity, finding full-time employees is not only difficult, it may not even be necessary. Cybersecurity is a demanding job but not necessarily one that requires the typical year-round, 40+ hours a week to do it effectively. If your company is introducing a new security software or bulking up the digital safety of its existing technology infrastructure, it may only require the help of a highly skilled pro for a finite amount of time.
Additionally, hiring cybersecurity pros temporarily allows leaders to evaluate the person and see if his/her qualifications truly match with the requirements of the job. It's also important to see if he/she fits within the company culture. If not, and the need for similar work arises in the future, the company isn't tied down to a single individual and has the freedom to explore other options.
Introduce Internal Training Programs or Apprenticeships
This is a tip for the long-term, but if the ability, staff, and resources exist, developing true cybersecurity stars is perhaps the smartest move a company can make. Hiring young, less experienced cybersecurity pros will not only be more affordable, but in-house staff can train these individuals on the exact programs they'll work with, methods and processes they'll use, and skills they'll need to succeed at the company.
Another option many companies are beginning to use is a college/university partnership. These alliances give students unique access and experience at today's best companies while providing the businesses the opportunity to recruit the next generation of IT pros before they even graduate.
While it isn't the best time to be a company in need of cybersecurity professionals, with the right mindset and a willingness to embrace different hiring strategies and a long-term outlook, there are avenues to finding them. It's just going to take commitment to do so.