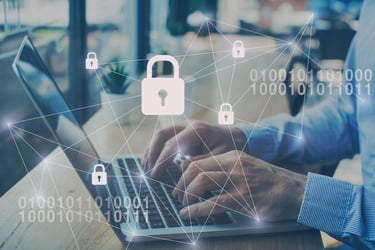 Everyone knows blockchain as the technology behind Bitcoin. However, many fail to realize that with its growth in popularity, there are new applications on its horizon to keep people and companies safe. Today, blockchain is actually blossoming into a promising mitigation technology for cybersecurity.
So what exactly is the role of blockchain in cybersecurity?

4 BLOCKCHAIN USE CASES IN CYBERSECURITY
Today, cyber threats remain a constant cause of worry. Across industries and companies of all sizes, security breaches are more commonplace than ever. And that's not excluding tech startups and large IT giants! Luckily, there are a growing number of implications for blockchain in cybersecurity.
Here are four key areas where blockchain technology is helping the situation.
1. IoT and Connected Device Security
Historically, hackers have utilized edge devices to take over entire systems. Now, we can incorporate blockchain into the security framework of IoT and connected device systems to avoid malicious attacks. Blockchain's added layer of security reduces the risk of breaches into both business and personal smart devices to protect critical data.
2. Decentralized Form of Data Storage
Today, storing data in a centralized database is the best way to remain vulnerable to cyber attacks. An easy fix is to switch up the way you're storing your data to reduce security gaps that could attract unwanted intrusions. With blockchain, you can store your data using a distributed, decentralized, and automated ledger. This will make it nearly impossible for hackers to penetrate your company's data storage systems.
3. A More Secure DNS
A Domain Name System (DNS) attack can turn customers away from your business in an instant. That's because hackers have learned how to exploit the connection between the IP address and the name of a website. By decentralizing your website's DNS entries, blockchain can prevent hacks common to a more centralized DNS, meaning your customers will benefit from a secure and problem-free customer experience.
4. Securing Data in Transmission
Utilizing blockchain's encryption feature will ensure your data doesn't get into the hands of anyone who isn't authorized to access it. For instance, you don't want sensitive email data to get into the wrong hands while in transit. The benefit of using blockchain to protect this type of data includes increased data integrity and avoiding malicious attacks.


HIRING CRYPTO CYBERSECURITY EXPERTS
With cryptos going mainstream - and, clearly for a good reason - we're seeing intense competition from major banks, investment companies, hedge funds, Fintech companies, and many other financial institutions.
The War for Crypto Cybersecurity Talent
Companies are looking for people with crypto experience, and especially those who have worked in some form of crypto/cybersecurity setting. Unfortunately, there's a considerable challenge keeping companies from finding this specialized talent: The fact that it's still an emerging area.
Since it's so new, the talent has not been in existence for 10+ years like it has for other skill sets. And because of that, competition is extremely HIGH. Large companies, startups, and even crypto firms are struggling to find appropriately skilled candidates for thousands of open roles across the world.
Behind the technology and tools intersecting blockchain and cybersecurity lies a number of key players. Here's who you'll want on your team to keep up with the growth in this space.
Crypto Cybersecurity Engineers and Developers
Cryptography Analysts
Cloud Security Engineers - Blockchain
Information Security Specialists - Payment Crypto Architecture
Sr. Product Security Engineers - Crypto
PKI Security Engineers – Crypto Ops
Senior Software Engineers - Trust & Safety
Blockchain Security Auditors
Confronting the Problem
Companies of all shapes and sizes are now understanding the role of blockchain in cybersecurity. With that understanding, comes the awareness that you need great talent in place to lead crypto cybersecurity initiatives.
To combat the cybersecurity talent gap, employers must be prepared to be competitive with compensation, great benefits, and remote-work options. In an increasingly competitive talent market, companies don't have time to waste searching for unicorns. Your best bet is to partner with a third-party agency that already has the top talent you need to hit the ground running.