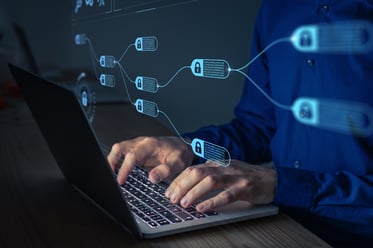 Cryptocurrencies have been intensely growing worldwide for their advantages and a great offer on virtual money transactions. In addition, cryptocurrencies are made known for their reliable operating system with no centralized authority, known as Blockchain technology. It is a technology that people are starting to be curious about because of its endless possibilities. But what exactly is blockchain technology? This post will provide some tips on how you can begin your journey into this exciting technology!
What is Blockchain Technology?
Blockchain technology was first introduced through Bitcoin by a pseudonym, Satoshi Nakamoto, growing exponentially since its creation in 2009. From there, many other cryptocurrencies have emerged, and an industry has been born. However, the essential thing that makes Blockchain unique is that it acts as a decentralized public ledger. It's a distributed ledger technology that stores and tracks transactions.
Blockchain helps Bitcoin from operating without the need for centralized authority. Other cryptocurrencies also have their operating blockchain system. There are many cryptocurrencies
aside from Bitcoin, with Litecoin as one of the altcoins topping the charts. Litecoin is often called silver, as Bitcoin is gold. Nowadays, it's easy to mine Litecoin because of the free Litecoin mining software available out there.
Why Is Blockchain popular nowadays?
The blockchain industry continues to be on the news, gaining popularity as time goes on. Why is there so much hype on Blockchain?
Many business owners talk about the benefits of blockchain applications in their businesses. The ledger mechanism that originated as a bitcoin blockchain has more potential because of its ability in storing records in different industries. Blockchain technologies can keep and secure documents that contain confidential information. It can store records from technology companies, banks, and more.
Blockchain is a popular and reliable technology because of the security in transferring money, contracts and other items without a centralized authority. The current growing popularity of blockchain tech leads to a demand in blockchain careers. As a result, many companies hire crypto experts, blockchain developers, and other jobs related to blockchain knowledge and
skills.
how to start a career in blockchain?
Wondering how to start a career in Blockchain? You must first get acquainted with blockchain basics. It means understanding how blockchain technology works, acquiring blockchain education from many blockchain professionals, and what makes it unique from other technologies. Here are the steps to starting a career in blockchain technology.
Learn about blockchain and its value
It is vital to fully grasp the particular career you're getting into, without exception to careers in Blockchain technology. So, firstly, know the ins and outs of what a blockchain is all about, the variety of careers in blockchain technology, and its value in the labor market.
Understanding blockchain technology involves familiarizing yourself with its basic terms. You would often encounter terms such as consensus mechanisms, distributed ledger, smart contracts, decentralized system, and more. Learning about these is essential for a blockchain professional because it will serve as the foundation in learning about Blockchain on a deeper and practical level.
acquire technical skills required in cryptography
Cryptography is the technology of knowing the operation of virtual transactions without the interference of any third party users. This way, only the sender and the recipient will have a view of their activity.
People who wish to start a career in blockchain technology should focus on the skills required to practice cryptography. Blockchain relies on cryptography for data security; therefore, gaining skills in cryptography gives you a competitive advantage.
join blockchain events
One of the reasons why Blockchain remains popular is because of the blockchain communities and professionals worldwide. To effectively establish the foundation of your career in blockchain technology, start developing professional contacts.
An excellent way to adapt comprehensive knowledge in Blockchain is by surrounding yourself with blockchain professionals. Participate in blockchain conferences and events to provide you with exposure in the industry. By interacting with the professionals, you can learn more about the leading blockchain platforms and tips on starting a career in Blockchain.
gain knowledge on programming
One crucial skill set you need to have in Blockchain is programming. Therefore, blockchain professionals need to gain expertise in at least one programming language.
Having a degree in Information Technology or Computer Science can be crucial to land a job in Blockchain. For instance, JavaScript, one of the most popular programming languages, helps create intelligent contracts. However, those with zero programming background can look for credible online platforms that provide programming courses and training.
market yourself in blockchain industry
Once you have gained the education, technical skills, and professional connections you need, you can market yourself in the industry. Next, build a good portfolio that would highlight the blockchain courses, training, and blockchain certification you have. This way, you are showing the world how you can contribute to the workforce.
Start applying for jobs that would suit the skills you have. Because you are just starting your career in Blockchain, it would help if you are proactive in searching for blockchain company with job openings.
career opportunities in blockchain
Blockchain is a technology that enables decentralization. Any entity or organization doesn't regulate it, and it's powered by the people who use it. This feature makes it one of the reasons why many are considering a career in Blockchain. As the blockchain industry rises to fame, more career opportunities follow.
The three leading players that make up the blockchain industry are big industries, tech companies, and startups. Big industries welcome blockchain careers to keep up with blockchain technology. Examples of these industries are oil and gas, financial industries, and retailers. Some of the tech companies shift to a decentralized system, thereby requiring blockchain skills. Finally, for the startups, these are the businesses created due to the creation of Blockchain.
As for the specific jobs on Blockchain, it would depend on the skills you have. The most known jobs in the blockchain industry are blockchain developer, blockchain project manager, blockchain UX designer, and blockchain solution architect. You can also explore other jobs related to Blockchain, such as cryptocurrency journalist, accountant, analyst, marketers, and public relations.
conclusion
Blockchain is a new technology that has emerged in recent years. While the technology is still relatively new, it's quickly becoming one of the most sought after skills in today's workforce. What was once a niche field has become mainstream enough to attract thousands of job seekers every year. Therefore, if you want to pursue a career with high potential and plenty of room for growth, Blockchain could be your answer.
About the Author: Hanna Zaragoza is an experienced Content Writer and Crypto Analyst at The Top Coins. She has been following the development of blockchain technology for several years. Hanna aims to provide people with financial insights into the cryptocurrency world.