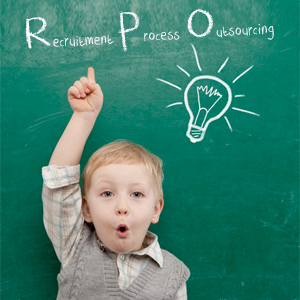 If you sit in recruiting or talent acquisition, then you may have heard the term Recruitment Process Outsourcing (RPO). Simply stated: RPO providers are contracted to take ownership of some or all of your recruiting processes. But understanding how RPO providers work can be anything but simple.


What is RPO?
According to the Recruitment Process Outsourcing Association, a leading authority on RPO education, it is defined as "a form of business process outsourcing where an employer transfers all or part of its recruitment processes to an external provider. Recruitment Process Outsourcing providers can manage the entire recruiting/hiring process, or can manage one or two aspects of the process, essentially serving as an extension of the company's human resources department". Now you might now be thinking how does it all work, and who is using it?
What Do RPO Providers Do?
The reason there can be so much confusion around RPO lies in the fact that RPO programs are truly a custom-tailored staffing solution. Like you versus your competitors, RPO services differ from provider to provider. By educating yourself on the fundamentals of Recruitment Process Outsourcing, you'll be better suited to understand whether or not your organization is suited for RPO; including the cost-savings and benefits these program yield.
When a sudden issue in your home arises, say your pipes freeze, you do some basic assessments. Is this life threatening (sense of urgency)? How much will it cost to fix (budget)? Can I wait or must it be fixed now (seasonal)?
You can argue that the same thought process happens internally at your organization and its respective need for talent. When the talent demand is too great or in-house recruiting resources are too overwhelmed, many organizations call a fixer. This can be more in-house staff, a temporary recruiter, or in the example below, a RPO provider.
In fact, with the increased pinch on talent over the past few years, RPO services have become more in-demand. It's estimated that two-thirds of U.S. companies have implemented or have seriously considered Recruitment Process Outsourcing (RPO) services. That's because RPO programs yield almost immediate cost savings and program efficiencies by delivering expert recruiters and proven solutions.
It's important to know when contemplating RPO, providers differ by service offerings, by experience and by industry. To paint a clearer picture, here are some examples of the RPO services.

Sample RPO Services


Staffing Process Design

Requisition Management

Career Portal and Internet Sourcing

Applicant and Resume Intake

Pre-Screening and Screening

Assessments and Testing

Interviewing

Offer Management and Pre-Employment Screening

Reference Checks

On-Boarding and Information Management

Picking the Right RPO Provider
As you can see, RPO providers offer soup to nuts services for the entire staffing and recruitment process, one piece of the process, and everything in between. In order to be successful it is essential that companies identify the exact needs and partner with the RPO to develop a plan that works best for that specific company. For instance, if you are a smaller company it may be best for all staffing and recruiting functions to be outsourced to help avoid costly overhead of hiring an internal staff.



The best way to think of RPO is like a piece of clothing. Different garments serve different purposes, and no one item fits all of your daily needs. RPO programs have become extremely sophisticated over the years in order to meet the exceedingly high demands of a global talent market. To create the most successful plan, you'll need to identify your need. Start by outlining recruiting weaknesses and determine your program goals. If I could correct one thing it would be this. To get your creative juices flowing, here are some examples of RPO Program goals.


RPO Program Goals


A Scalable and Responsive Recruiting Engine

Reduced Burden on HR Staff

Improved Candidate Quality

Increased Employment Branding and Retention

Enhanced ROI on Strategic HR Initiatives

Increased Internal Customer Satisfaction

Reduced Cycle Time and Hiring Costs

Flexible Hiring Costs – From Fixed to Variable

Improved Compliance, Tracking and Reporting
The key to RPO is to identify the problem and set clear and tangible goals. Your provider can help you to determine whether this is a short-term fix, like seasonal hiring needs, or whether you need a more permanent solution. Once you find a provider that's the right fit, you should be able to piece a seamless plan that fits like a glove.
Jessica is a human resources professional with over 5 years of experience in staffing, recruiting, hiring practices, recruitment marketing and analytics, and project management. She currently serves as an Operations Analyst for a Yoh client based in Selkirk, NY. She started her career in a corporate HR role before making the transition to RPO. She holds a B.S. in Human Resources Management from Bryant University, and currently resides in Albany, NY.