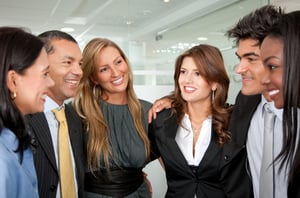 Configuring a total talent solution successfully has never been more difficult than during these unprecedented times. The current pandemic has created unforeseen obstacles that influence typical talent acquisition processes. Companies have been forced to adapt by researching virtual solutions to continue to optimize hiring practices. Yoh is uniquely equipped to find the optimal intersection of people, process, and technology to implement the best possible talent solution.
In this virtual podcast, Wendy Metzgar sat down with Craig Colardeau, Senior Project Manager of Customer Integration, Michael Dachenhaus, Senior Director of Digital Transformation, and Christopher Mennillo, Senior Director of Customer Solutions. The panel discussed how to go about designing and implementing a total talent solution successfully.
LISTEN TO THE FULL PODCAST BELOW
The panelists emphasized that from the early stages of implementation it is paramount to understand and actively listen to the customer's business model of engagement. Each company has a different target audience, Yoh allows for the customer to bring in top talent and simultaneously minimize disruptions and complexities. When diagnosing talent acquisition weaknesses of a company, it is important to consider the following questions to optimize the total talent solution.
What are the systems in place?
How are those systems configured?
Where do they support the new environment?
Where, if any, are the gaps in the systems?
Can you integrate and streamline work streams to properly move data to the new environment?
Techniques for Implementation
A customer readiness assessment is assigned to the customer to properly diagnosis how ready a customer is for a holistic organizational change. The assessment provides value feedback in highlighting potential red flags that could thwart positive change. It takes an in-depth look at understanding who is responsible for managing each software and technology, how to create a contingency plan to replace those in the charge of the campaign in the event they depart, and analyzing the onboarding process. The expectation is that the customer will learn strategies to manage change through company introspection.
How to Track Success?
Fostering a successful implementation is reliant on honest communication and complete transparency. It is important the customer leaves nothing behind in the preliminary discussion and ongoing implementation process. Never become complacent, always keep a watchful eye on response times and fill ratios as they remain a highly indicative measure of talent solution effectiveness. Lastly, consistency is key. Ensure that before the implementation all variables have been considered to bring the company vision to life.