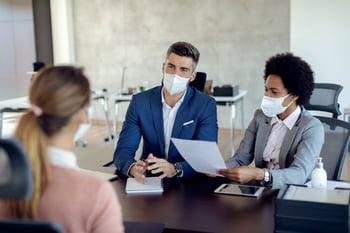 The emergence of new technical roles geared towards addressing the demands of the pandemic, has set the stage for a candidate-first job market. The race to secure top talent in a candidate-first market can be achieved through a streamlined hiring process marked by a shorter interview cycle.
Typical practices within the talent management space have been disrupted. Technical candidates are cognizant that their skills are exceedingly coveted in fast-growing industries like fintech, cybersecurity, life sciences, and healthcare. As a result, candidates are leveraging their skills to reassess where, how, and if they want to work. Below are key insights to secure top talents in a competitive market by employing a shorter interview cycle.
4 insights to secure top talent with a shorter interview cycle
1. cLEARLY DEFINE Roles and Qualifications
Establish relevant qualifications for the desired role beforehand with stakeholders. Candidates are impressed when employers are clear and concise in the job posting to eliminate ambiguity that would need to be addressed in the interview process. This step will act as a catalyst to attract the candidate motivated and qualified to pursue the role.
2. Increased Pre-Screening Efforts
Lessens the burden on the interviewer(s) to vet a myriad of candidates and focus on the most qualified applicants instead.
---
---
3. Streamline the Interview Process
Craft a company interview structure that can be easily utilized across different teams with a nuanced approach. Consider introducing a panel interview to have the interviewer meet simultaneously with the most relevant voices. A one hour interview structure (half hour devoted to technical screening and half hour devoted to asking questions) to be concise. Be sure to update the candidate on next steps in the process to keep them engaged.
4. RELY ON THE RIGHT PARTNERS
Trust a knowledgeable partner like Yoh to resolve inefficiencies in the hiring process to secure the best technical talent. We utilize a consultative approach to find the ideal hiring practice that is customized to fit your distinct needs.
Final THoughts
Competition for talent is greater than ever. Increased recruiting budgets, digital outreach, and coordination from competing companies' means your firm needs a streamlined process to attract the best candidates immediately. Optimizing the hiring process to shorten the interview cycle will act as a selling point to communicate your company's superb coordination and communication. Download our eBook to garner comprehensive insights on how to secure top talent by implementing a shorter interview cycle.