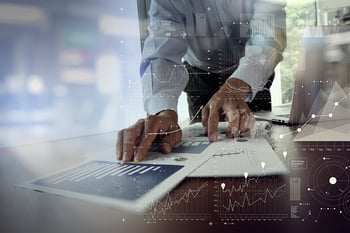 Governments around the world are imposing strict measures to limit the spread of the COVID-19 pandemic. This includes decreasing physical contact between people by mandating that people work from home.
For a majority of companies, this entails digitizing their business processes. And even though making the shift to digital was already common before the current pandemic, it still poses a challenge to most organizations. However, those who are quick to adapt a flexible approach and build a strong SEO strategy are better poised for long-term success.
But what is the secret to a successful digital transition? While there are several ways to make the process a lot smoother, a useful tip is to use an online board when delegating tasks. An online board helps you organize your business' workflow by assigning topics and letting you view team progress. Online boards are a great example of a tool you can use. Depending on your tasks, you can make your workflow look as simple or in-depth as possible.
If you're new to this process, here are some tips to efficiently organize your to-do boards for your next project.
Provide Clear Instructions
Providing a clear and detailed guide to your team will save you a lot of time. From editing the board to addressing frequently asked questions, a disorganized board can contribute to project delays. Eliminate this by providing clear instructions, answering questions clearly, and checking whether every team member is on the same page.
You can use the comment field for this and tag the team member working on a certain task. Make it a point to ask if something needs further explanation and clear out any concerns that could come up.
Assess Strengths and Weaknesses
As a leader, it helps to have a clear understanding of the strengths and weaknesses of each team member. Knowing this will allow you to delegate tasks effectively to those who are already familiar with a specific task.
Let's say you're a team leader of a content marketing team. Assigning topics to your writers isn't enough—you'll have to factor in what they've written about. If you're writing a guest post for a video game company, for instance, you'll have to consider whether the writer you plan to assign the task to is familiar with the gaming industry. Ask yourself: Do they play games or are updated about the current state of the industry?
By singling out the right person for a task, you're not only making your team more productive, you're but you're increasing its chances of success, as well.
Strive for Improvement
Despite being the person in charge of your team's to-do board, you can't help but overlook some things when organizing tasks. This happens to the best of us, but you might be more prone to it if you're a first-time manager.
But there's no need to worry since there's always room for improvement. Start by proactively asking for feedback from your team members when possible. After delegating tasks, check in with everyone to make sure they don't have too much on their plate. Doing this will help boost team morale, build stronger communication channels, solidify team collaboration, and increase productivity. It will also help you grow as a leader.
Explain Goals Clearly
Successful leaders don't just go around assigning tasks then call it a day. They put forth the effort to explain what the end goal for a project is, and how everyone's tasks tie in with achieving this goal. So before you start delegating work to do, make sure that everyone is on the same page about what the final result will look like, and why it's important.
That way, each team member will find purpose in what they do and feel like they're a valuable part of your team. And the sooner the team understands this goal, the sooner they can complete their tasks.
Communicate Properly
A project's success largely depends on how well a team communicates with each other. As you may already have noticed, this ties in with the rest of the management tips we've discussed in this article.
But why is communicating properly so crucial? A team with open lines for communication can spot problems more easily and address them right away. And the best part about a team that knows how to communicate well is that sometimes, all it takes is a simple tweak here and there to solve a problem.
Be Flexible
Creating a to-do board is prone to multiple revisions and this is a natural part of task delegation. As mentioned earlier, you're bound to forget details every now and then even if you're used to assigning job orders. Managing a board takes a lot of work, and even the best managers are prone to human error.
The important thing is to stay vigilant of challenges that could arise and disrupt your established workflow. To make this happen, you need to be flexible enough to make last-minute changes while still keeping within the project deadline. Your team should also be prepared for any sudden task changes, so they should be ready for anything that comes their way.
Have a Contingency Plan
During situations when your entire team needs to adjust to an unexpected roadblock, you'll need to have a contingency plan ready for an easier transition. For this to work, you'll need to be able to communicate with your team effectively.
After all, you may need to let your team know that they may have to work on extra tasks until the issue is resolved. This means you'll have to communicate these changes in a way that would still encourage them to cooperate.
With a contingency plan, you can be properly guided by your foresight, which is a valuable skill for anyone overseeing a team.
Look for Sources of Inspiration
Even if you already have a to-do board, it won't hurt to find inspiration from other boards. You could learn a thing or two with how the tasks are organized, after all. Having a fresh new perspective is always welcome. Whether you've been managing a team for a decade or just starting out, browsing boards online can help teach you how to be more efficient with your workflow.
About the Author: Stefanie Siclot is part of the SEO team at Growth Rocket, a digital marketing agency based in Los Angeles. She is responsible for increasing the quality and quantity of website traffic which means fun for her.