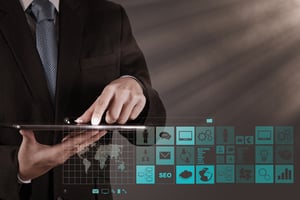 The world is changing! Technology startups are appearing across the globe, digital advancements are being made every day, and phenomenal talent is available internationally. Since the cost of getting a business started has dropped significantly, startups have become commonplace; small businesses are looking to change the way things have been done in the past are cropping up worldwide, leading to innovative and exciting developments in all aspects of life.
As a result, one of the biggest areas undergoing this grand evolution is the hiring process. With such an excess of competition, companies are placing more importance on how they recruit new employees. Finding the right fit straight off the bat can save a business valuable time and money, and can contribute significantly to their growth and success over numerous adversaries. Since jobs are almost exclusively searched for online (more than 226 million job seekers use Google each month to search for open positions), employing SEO tactics to pull talented individuals toward you can mean the difference between adding an Average Joe or a Steve Jobs to the team -- and which one would you rather have?
Saving With SEO
When you optimize your company's website, you're looking to draw consumers; when you optimize your job posting, you're looking to draw potential hires. The difference lies in the fact that you can be as picky and specific as you'd like with your job posting to ensure that you're getting a candidate who represents exactly what you want and need. This means no more sorting through countless resumes and sitting through countless interviews, only to hire someone that results in a loss of time and money for your business. When you start with a more narrowed selection, your chances of finding an innovative, committed individual significantly increases.
Let The Right One In
Search engine optimization in the recruitment process relies on specific targeting. By focusing on the following three tactics, you can guarantee you've got the right candidates knocking at your company's door.
Keywords, Keywords, Keywords
Quirky words can be fun but can count against you if used in your job posting -- after all, you want to attract professional individuals, not goofballs and comedians. To make the most of the posting, use adjectives that describe what you're looking for in a new hire; be specific enough to separate your company from the crowd but not weird enough that you get zero responses. At the same time, be sure to use keywords that are relevant to the jobs people are actually searching for: the line between specificity and obscurity is a thin one.
Titles and Meta Tags
Remember that you're vying for the best of the best candidates, so your posting needs to visible above the competition. Make your titles and meta descriptions rich and compelling, and don't be afraid to sell it! You're offering something of value and these crucial snippets of information should show that.
Commit to the Content
Keeping your keywords in mind, craft a full job description that echoes your online and brand presence while maintaining the kind of character you're looking for. This is an opportunity to engage with candidates beyond giving basic information about the business and create a rapport and first impression that could push them to choose your company instead of your competitor! As a bonus, Google always rewards consistently relevant, trusted, and high quality content -- whether this is posted on your career site or simply on a job posting platform, it will only make the entire recruitment process easier.
It's time to skip the resume examinations and lengthy interviews. By using these SEO tactics in your job postings, you'll find yourself having the pick of the talent litter.
About the Author: Brennen Bliss is the founder and director of the marketing agency, PixelCutLabs. From making websites and apps at age 13 for family and friends in his bedroom to partnering with organizations like the College Football Playoffs a few years later, Brennen has bootstrapped a company that is now recognized by UpCity as one of the top 10 SEO agencies in the United States, and one of the top SEO agencies in the USA by the global search awards.