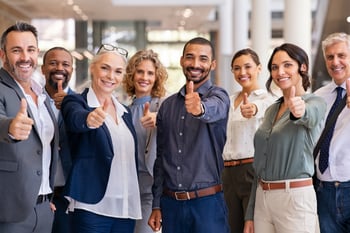 As an employer, adopting automation in the onboarding process is necessary to remain agile in the future. Keeping the human aspect of onboarding automation is vital to making new employees feel welcomed and valued. A great employee onboarding process can help improve staff retention. Although it is a lengthy and tiring process for an employer to successfully achieve. Automation can speed up the process, helping you focus on more important tasks.
How can you make onboarding a more enjoyable process? By incorporating a human touch in the onboarding automation. In today's world, it's important to win in a competitive hiring market but what's even more important is retaining your current core employees. By adding a human touch to the onboarding automation, you can improve your new employee's onboarding experience and boost retention. Here's how you can add that much-needed human touch.
Personalize Communication at a Deeper Level
No matter how digitized the world around you may become, fundamentally you are dealing with people. The best way to show them that you value them is by personalizing communications with them. Yes, you should use their first name in the communication emails, but along with that, the content can be tweaked as well. You can also inquire about their unique hiring experience, which shows that you care.
You can adopt a 50/50 approach where you use a mix of automation and human resources. Employees can complete certain steps in the process themselves, and the HR team can talk with the new hires for the rest. For example, let's say you are using one of the online document signing tools. An HR executive can quickly guide the new hires on how to use it and help complete the paperwork a lot faster.
Welcome Them in a Meaningful Way
One of the drawbacks of virtual onboarding is that you don't get to welcome your new hires face-to-face. But you can make up for that by using customized video messages. You can create a video showcasing your company culture and include a warm welcome message from any of the top management executives.
Go the informal way and record fun and engaging video messages that can cheer up your new employees. You can even create a series of video messages introducing new employees to different aspects of your business. To keep the human touch in onboarding automation, you need to think out of the box and come up with smart ways to engage your new hires.
Connect Them with a Mentor
New hires are often clueless during the onboarding process. Instead of adding them directly to a group chat or including them in long threads of emails, you should consider connecting them with a mentor. This could be a manager or a senior colleague, who will be their first point of contact during the onboarding period. Adding this human touch can really help you elevate the employee experience and boost their productivity.
Along with all written instructions that you automatically share, the mentor can connect directly and clarify the queries new hires may have. By including this human touch in addition to onboarding automation, you can show your new team members that they are part of a team.
Create Videos for Guidelines
Videos can be a great tool for adding a human touch to onboarding automation. You might be using videos effectively to impart training remotely to the new employees. But have you thought of creating videos to share guidelines with new employees?
Remember, the millennials that you are hiring love video content. They would prefer to watch a series of videos rather than read documents. By providing them with fun and engaging videos, you can enhance their level of absorption. They will certainly appreciate the effort and want to work with you for a longer time. They may even readily enroll in your employee referral program too to bring top talent to your company.
Make the Entire Process Exciting
The onboarding process is a great opportunity to inspire and excite your new hires about your company. You can add a human touch to onboarding automation by making the mundane process more exciting. Let's say your new hires need to do ten things to complete the paperwork. Instead of listing them down as bullet points, why not create a fun map and send them on an adventure?
Your welcome email can be made more exciting by offering a welcome hamper. Ask some witty questions in the feedback form, which your employees should get excited to answer. Don't forget to share employee testimonial videos to let the new hires know what a joy it is to work with your company. These small things will help you go the extra mile to show your employees that they have chosen the right employer.
Ready to Add the Human Touch to Your Onboarding Process?
Your onboarding process makes the first impression on your new employees about your company's work culture. By adding a human touch to onboarding automation, you can enhance this experience.
Along with the five actionable tips shared above, you can come up with more creative ways to restore the human touch in onboarding automation. Go ahead and implement these tips to improve your onboarding process and welcome new employees in the right way.
About the Author: Gaurav Sharma is the founder and CEO of Attrock, a results-driven digital marketing company. He grew an agency from 5-figure to 7-figure revenue in just two year I 10X leads I 2.8X conversions I 300K organic monthly traffic. He also contributed to top publications like HuffPost, Adweek, Business 2 Community, TechCrunch, and more.