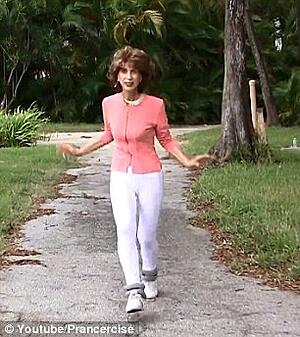 We know what you're thinking. It doesn't seem possible for a chemistry teacher turned criminal mastermind and a woman who mesmerized us with her unforgettable horse-inspired fitness routine to have anything in common. But they do, and you might have it, too.

Forgive us for assuming that you don't have over 10 million hits on YouTube, and we know you didn't play a good guy gone seriously bad on AMC's hit television series Breaking Bad. But what these two polar opposites have in common is what drove their tremendous success in the media and entertainment industry.
Bryan Craston is the bonafide TV star who played the legendary Walter White (better known as the infamous Heisenberg). He started his acting career in the mid to late 90's. Since then, he has come a long way from his "what won't Bryan do" days breaking into television stardom as White. Today, it seems like everything Cranston touches turns into media and entertainment gold; including this hilarious 2014 pre-Emmy promo filmed with Breaking Bad co-star, Aaron Paul.
On the night of the Emmy award show, Cranston took home gold; accepting his third fourth consecutive win for his work on Breaking Bad. During his acceptance speech, the self-proclaimed "schemer," credits his success to his unrelenting passion for acting; advising everyone to find what you love and to do it every day.
Well, that advice seems to hold true for our favorite and wake aerobic gal pal, the Prancercise lady (aka Johanna Rohrback). She's responsible for giving us Prancerise, a holistic fitness method that mimics a horse's gallop. Having created it back in the early 90's during the midst of the aerobic fitness craze, Rohrback kept at it for almost 20 years. And boy did it pay off. Almost instantly, Rohrback had America Prancersing after her YouTube video went viral in 2013.
Rohrback was catapulted into the limelight. From her "Romancerise" rendition sampled with tunes from John Mayor to a national television commercial for the Pistachio brand with Dennis Rodman, needless to say, it wasn't a bad fifteen minutes of fame.
So back to the topic at hand; what do these two unlikely characters have in common? Simply stated the drive and self-determination to make it on the big, small or mobile-sized screens. Now, we aren't advocating you ditch your job to moonlight as a drug kingpin. After-all, it didn't end well for anyone in the Hesinberg clan. And, while you might have better luck making it as a YouTube star. We do recommend you take our quiz to see if you have what it takes to make it in Hollywood.