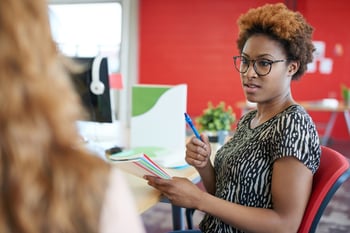 Proactive talent pipelining is on the tip of everyone's tongue because let's face it, there just aren't enough candidates to go around. More and more, organizations wish to fill their pipelines with qualified candidates. But, why are so many opting to go after passive candidates already working versus those who are actively on the market?
According to Undercover Recruiter, only 15% of employees are satisfied with their current job. It's no wonder the number of and interest in passive candidates is continuously on the rise. For whatever reason, HR leaders and managers opt to go after passive candidates; often even defending their passive-candidates-first hiring process. But how do you know which candidates are interested in what you are selling versus those who are just window shopping?
What Motivates Passive Candidates
Often, the most complex problems are solved with the simplest solutions. In the scenario of attracting passive candidates, a good place to start is with data. LinkedIn conducted a poll with two groups of professionals. One group consisted of employed professionals and the other with individuals who recently switched jobs. They then asked those who were employed what it would take for them to accept a new job and compared their answers to what actually motivated candidates to change employers.
While compensation and work-life benefits were high on the motivator list, the reality is greater opportunities for career advancement tipped the scale as illustrated in the graphic below.

Additionally, Yoh conducted an internal survey where we asked passive candidates who declined offers why they did so. The top three reasons candidates in our survey were NOT motivated to accept included:
Career advancement was not great enough
Compensation was not satisfactory
Location was not suitable

Tweet this stat
Questions to Vet Passive candidates
The data proves that it's all about the motivators. Flexible work arrangements, work-life balance, and good benefits are important, but they don't top passive candidates list for reasons to switch employers. Furthermore, they aren't items that you can easily change overnight if your company doesn't readily offer it.
With the right questions, your recruiters can drive meaningful dialogue around the motivations for making a move. This makes it easier to customize value propositions and more effectively attract and close candidates to your organization.
To start proactively building your talent pipeline, have your recruiters ask these questions to vet passive candidates:
What aspect of this opportunity sparked your interest?
What do you love about what you are currently doing?
What would you change, if you could?
If you had your druthers what would you be doing?
What would you need to see in this opportunity to make a change?
How will you be evaluating this opportunity?
What are the key deciding factors for you to accept an offer?
What would prevent you from accepting an offer?
At the most basic level, you can incorporate these key motivators, or triggers, into your value propositions, job postings, email templates, subject lines, and phone conversations. But every candidate is different, so the message must be targeted. Asking the right questions and actively listening to the candidates is how to develop long-term passive candidate pipelines.