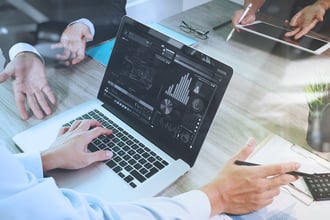 A portfolio can make or break a potential client's or employer's confidence in what you can do. Just giving them a collection of previous projects won't cut it. Your portfolio needs to be a strong preview of your work that will make you stand out against the competition and provide them with an idea of whether you are a good fit for what they are looking for.
Whether you are creating your first portfolio or you're updating an old portfolio, these tips will helpful to create one that will help you stand out and put your best foot forward in any situation.
Set The Spotlight On Your Design
There are multiple elements of your portfolio that you need to keep in mind when showcasing your design.
Here are a few things to remember when deciding on these elements:
1.COLOR
Choosing the right color for your portfolio is going to be crucial for highlighting your projects. If you take a look at your projects, what are the standard color palettes that you see?
When you've identified the standard colors you've used, it will be easier to decide which color palette you will use for your portfolio. Find a color palette that can bring together all of the projects cohesively.
An easy way to do this is to use a color palette generator. There are multiple color palette generators out there, but Adobe offers many color harmony options for you.
These options include the following:
Harmonious

Monochromatic

Triad

Complementary

Split Complementary

Double Complementary

Square

Compounds

Shades
All you have to do is pick out the colors you use, and palettes will be generated for you depending on what harmony rule you want to use.
2. FRAMING
There are instances where your design would seemingly blend with your chosen background. This may be due to having similar color palettes.
Because of this, sometimes your background blurs the line between where your design ends and your background begins. Your potential client might not see what you want them to see.
As a solution, consider framing your design. The frame must not only complement the design but also highlight it in the process. You can use simple blocks with complementing colors so that it brings out the edges of your design.
A subtle shadow is a fantastic way to frame your project.
You can also opt for a subtle shadow beneath the design to make it look cleaner and more modern. This is a great way to showcase projects that share the same color as the background. It helps the project stand out despite the similarity in color.
Show Them Your Thought Process
Having a well-designed portfolio is going to grab your potential client's attention. But showing your viewers what went on in your head while you did the design is what will get you hired.
Showing your potential clients your thought process will help them see if you're the right fit for their project. They'll have a sneak peek of how you solve problems and arrive at your designs.
Drafts are an excellent visual representation of your thought process. Your potential clients can see how you think instead of just listening to you talk about it. They know how you take information and use it for your designs to evolve.
Keep in mind, though, that these drafts don't have to be overly refined. They have to be understandable. If you refine them too much, they might lose authenticity.
Give Your Potential Clients Context
Make sure to include texts or images that explain to your potential client the precise vision. Please don't leave them hanging by making them fill in the blanks. They need to know the details of what they're looking at so they know if you did well or not. They need context as to what the goal is for your designs, so they'll know if you were able to achieve it or not.
Here are a few things that you should include in the description of your projects:
1.
What's the project centered around?
Tell them a little bit about the background of the projects you're showcasing.
You don't need to bore your potential clients with the minor details of the project. Chances are, you have multiple projects that you'll want to talk about, so stick with the principal and defining elements of the projects.
If you still have enough space, you might want to share the project's intricate and complex details. This gives your clients a better view of your attention to detail.
2. Who was the project for?
Describing who the project is for will help your potential client understand what kind of people you've worked with on your previous projects.
Suppose you're focused on a particular niche, awesome! Highlight how you stand out in that niche. Describe the clients you've had in the past that also focus on the niche. Knowing that you've had experience with this niche gives your potential client confidence that you know what you're doing.
Suppose you're a jack of all trades, fantastic! Highlight how you adapt to different types of clients. Show them that you listen to the specific preferences or requirements of your clients and act accordingly. Your potential client will appreciate that you have the flexibility to address needs as they arise.
3. What problem were you trying to solve?
Be sure to show your potential client your problem-solving skills by discussing the problems of your previous clients. This reassures your potential clients that you can solve their problems too.
This is especially powerful if the problem was tricky. For this part, it doesn't have to be text-heavy. It would be better if you can show the problem and the process with visual representations. It's easier to look at and digest.
Showcasing how you could listen to your previous clients' needs is a skill that your future clients will value.
Key TakeawayS
Making your first-ever portfolio is a massive step in your career. It might be overwhelming, especially if you see all these excellent portfolios of other professionals in your field.
You don't have to be the best when you make your first portfolio instantly. You don't even have to be the best if you're making your 10th portfolio. What's important is that your portfolio showcases your work and no one else's.
It doesn't have to be made from scratch. A lot of beginner-to-intermediate professionals use PowerPoint templates in their portfolios. One example of using PowerPoint templates is showcasing your current skill level journey by using timeline PowerPoint templates. A clear template for your portfolio that would show off your skills and experience will be a great move.
There's nothing wrong with having a reference. What's important is that you add your unique style to a strong foundation. Time to craft your portfolio. Go out there and show them what you can do!
About the Author: Dan Martin has hands-on experience in digital marketing since 2007. He has been building teams and coaching others to foster innovation and solve real-time problems. Dan also enjoys photography and traveling.