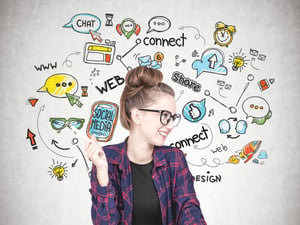 Social media marketing is a way to spread the word about your new job openings. However, instead of passively waiting for people to apply, you can actively start reaching out to potential candidates on LinkedIn.
The best part about this tactic is that LinkedIn profiles can easily serve as resumes which means that just by viewing profiles, you can already make judgments about whether the person is a good candidate. Here's what to do next and how to contact potential workers on LinkedIn.


Why Should You Use LinkedIn?
First and foremost, why should you use LinkedIn rather than any other platform? As mentioned above, all the user profiles you visit can already serve as resumes which means you instantly get access to all the professional data of your potential candidates. But there's actually more to it than that:
You can see whether potential candidates are interested in work at the moment and decide to reach out to those who are.
You can use different methods for recruiting, including direct outreach, posting job listings, and more.
You can take advantage of instant communication by messaging potential candidates. They will likely see messages faster than emails and even reply faster if they are online.
You can showcase the benefits of working at your company by having a LinkedIn page for it.


Ways You Can Recruit on LinkedIn
As mentioned above, there are some options for you to choose from when it comes to recruiting on LinkedIn. Molly Ewing, an expert from the custom writing reviews site Writing Judge, explains it this way, "Instead of simply settling on direct outreach, you can use a variety of techniques to find potential candidates on LinkedIn." Here are just some approaches to try:
Post Job Listings: LinkedIn is a social media network, but it can also function just like any job board which means you can post job listings there. By using your company's LinkedIn profile, you can post about new job openings at your organization and let potential candidates discover you and apply. Make sure that the company profile is filled out correctly with the most relevant information to make your company an appealing place to work at. Add contact information and use keywords to make your company discoverable.
Reach Out Directly: Alternatively, you can reach out to potential candidates directly. Use the search feature to look for professionals with the right keywords. You can even use qualifications from your job listings as keywords. To contact people you aren't connected with, you might have to use LinkedIn's Inmail feature. You can even upgrade your profile to a paid membership and get access to advanced features that will aid you in the process.
Use Your Network: Using your network is another effective way to find great candidates for your job openings. Start by asking your own employees, past or present, whether they are looking for a job. If they aren't, ask them to spread the word and ask their own connections.
Join Relevant Groups: Another way to find potential candidates is by joining relevant groups. These groups are themed by topic, so you know what kind of audience you will be connecting with. Join such groups and find like-minded people. This will grow your network and will give you a bigger pool of candidates to choose from.


Best Practices of Outreach Messages
While all four methods listed above can be effective for LinkedIn recruiting, you may want to start sending outreach messages to find and contact potential candidates directly. Here are the best practices to follow:
Know what you want from the person you are reaching out to. With a clear goal, it will be easier to start the conversation and get right to the point.
Consider the other person's needs. Instead of only focusing on what you want, think about what their interests may be. If your offer is something of value to them, they will be more likely to respond.
Be specific in your messages. Personalizing them is a good idea because it shows that you truly value the potential candidate. Give hints in your message that you have actually seen their profile/resume.
Use templates to make reaching out easier. While it's good to personalize your messages, you can still use templates to make the process easier. Just make sure that you don't end up copy-pasting everything again and again.
Avoid making your wording weird in some way. Whether you sound awkward or you aren't persuasive enough, your wording could play a role in the effectiveness of your outreach. Likewise, make sure to check your messages for grammar, spelling, and punctuation mistakes.
Keep your messages short and sweet. Just like you, your potential candidates value their time. You should value their time as well. That's why every message you send needs to be as brief as possible.
Always be polite and professional. Even if the person responds in a rude way, it's your responsibility to stay polite and professional throughout the entire conversation. After all, you are representing your company, so you need to make a good impression and keep your company's reputation good.
Follow up on your messages. If the conversation has started, but the person suddenly stopped replying, write to them again to follow up on your previous messages.


Conclusion
To summarize, reaching out to potential candidates on LinkedIn is a great way to find new talent for your business. You just need to decide what your main tactic will be when recruiting this way. Use this article to help you get started and begin applying tips from it to your own strategy.
About the Author: Nancy P. Howard has been working as an editor at Best Writers Online custom review writing service. She is also a professional writer in such topics as blogging, IT and HR. She loves travelling, photography and is always welcome to meet new people.