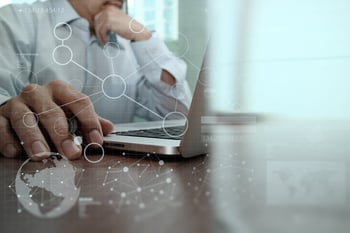 As we were waiting for 2020 and saying goodbye to 2019, an artificial warning system flagged a news report from China about a virus named Coronavirus (COVID-19). COVID-19 has already been impacting the job market. As it continues to spread across the world, it leaves us wondering: should all employers suspend their hiring process?
I recommend you do it virtually! Currently, online recruitment is being so heavily adopted, and this seems to be the most logical choice. During the COVID-19 outbreak, HR professionals should avoid human contact.
With so much valuable information flying around, it can be difficult to know what the best action is for your organization to streamline the recruitment process. Here, I will share a few tips for taking your recruitment process solely online.
How To Move Your Recruitment Process Online
Use the Power of Technology
An AI tool like a resume parser helps in screening candidates by extracting data from resumes and putting it in pre-designed data fields. It will save recruiters time and help them find the right candidate. After finding the perfect candidates with the help of screening and recruitment tools, the next step is interviewing them.
Traditionally, the process starts with a phone screening, and if the candidates seem to be fit for the position, recruiters can invite them to face-to-face interviews. But currently, organizations are shifting personal interviews to video calls. Conducting personal interviews requires a human touch, but thanks to advanced technology, it doesn't always have to be that way!
Social Media
As coronavirus continues to spread throughout the world, online communication is the best way to connect with potential candidates. But where can you start your search? Start with social media platforms like LinkedIn, Twitter, and Facebook. If you tailor your messaging in the right direction, you can source the right talent in no time. Here are a few tips to get started with social media recruiting:
Recruiters can use social media tools like hashtags to draw the attention of applicants.

Host online events via social media platforms to encourage candidate interaction with the organization.

Ensure that your social media pages are optimized and can be found easily in search results.

Use the various paid options offered by different social media platforms to host or boost your job post. This can include advertising or other specific job post functionalities.

Ensuring there is a quick response time for the candidate's inquiries on social media platforms.
Transparency in Communication
Regardless of the avenue organizations take, the key is to remain transparent and communicate with everyone. In the current situation, transparency and communication are very important for both employees and prospective candidates.
Informing candidates and employees at each stage of the process will make sure that they are actively engaged. We all know that the outbreak will be disruptive, so it's essential that employers are ahead of the curve and making sure that they're talking to employees and candidates.

While coronavirus fears continue to plague the whole world, it's time to start looking into technology-based aspects for hiring. As the world becomes increasingly dependent on advanced technology, you'll have the edge over your competitors when you go fully digital!
About the Author: Lovepreet Dhaliwal works with RChilli Inc, a leading resume parsing software provider which helps in speeding up your recruitment process. An MBA in HR and marketing, he has over eight years of work experience in business development and strategic sales.