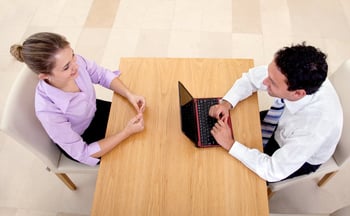 With the way that technology is changing, it's no surprise to see that the way we recruit has been impacted. This tech allows us to interview highly skilled candidates at the click of a button, regardless of proximity and schedule clashes, while saving time and resources. Hiring managers are now able to expand their reach globally and find the talent that best suits their need from a much larger pool.
But the everyday American isn't nearly as excited about it.
Face-to-face time
This summer, we conducted a survey of more than 2,000 U.S. adults through The Harris Poll and found that 62% of Americans would prefer to be interviewed in person rather than through virtual means. Among Americans who say they would prefer an in-person interview, reasons include:
In-person interviews would be the only way to truly judge a new job opportunity (59%)
Virtual interviews would limit the connection with the interviewer (37%)
Virtual job interviews would offer too many opportunities for technical difficulties (17%)
Other reason (16%)
Beyond these compelling stats, we also found that more than two-thirds of college graduates (68%) say they would prefer an in-person interview over virtual, while this distaste for virtual interviews is less pronounced in those with a high school diploma or below (57%). On top of that, it's somewhat surprising to see that older Americans (those 55 or older) and millennials (those between ages 18 and 34) are almost equally as concerned about technical difficulties during a virtual interview (13% vs. 12%).
Fears of a computer refusing to turn on, or not being able to properly form a connection with the interviewer are not unfounded. Still, companies have been successfully integrating virtual interviewing into their recruitment processes for years. It's helping them expand their reach. It's helping them interview a wider range of candidates. And it's helping them push their company's success further with the ability to cherry pick talent across a much broader talent pool. Plus, the benefits of tech can be seen on both sides of the hiring process too, with virtual job fairs taking place across the internet for job seekers.
One Hire Thought
The availability of remote interviewing is no doubt improving the reach and speed of our hiring decisions. But it's important for hiring managers to remember that, where possible, there is no real alternative for face-to-face meetings, especially when gauging cultural fit and personability in candidates.
Companies that use virtual interviews to complement and streamline their recruitment process but not replace in-person interviews will succeed in hiring the most effective candidates.