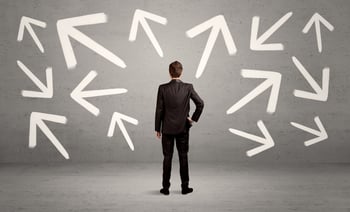 If one thing is certain during the current COVID-19 crisis it's the uncertainty it's brought to job security. That's why, as one might expect, most employed Americans are apprehensive in changing jobs during these unprecedented times.
According to a new survey conducted by The Harris Poll on behalf of Yoh, a majority of unemployed Americans (78%) say they would not consider a job change during the COVID-19 outbreak as long as they can continue to work at their current job. A likely reason for hesitancy surrounding changing jobs is due to 69% of Americans saying they don't think they would be able to find a new job during the pandemic.
However, workers looking to find a new job during a pandemic is not completely out of the question. Gen Z, Millennial and Gen X Americans are more open to job changes at this time. 69% of those 44 and younger would consider changing jobs during the coronavirus outbreak if they felt their current company was not doing enough to protect its employees. Health measures and safety implementations have become a vital expectation in the workplace. In addition, 56% of those 44 and younger say working in the current COVID-19 coronavirus outbreak has made them reconsider if they are in the right job. The importance of having employee outreach programs, corporate giving, and proper benefits has never been greater.
However, for those who say they're hesitant to leave their current jobs in the middle of a crisis, this could be because they don't know that many companies are hiring. Knowing younger employed Americans are more open to a job change, companies could consider increasing their use of social media recruiting, where younger generations will more likely see the job opportunities. In the midst of an unsteady job market, department cuts and downsizing, recruiters and HR departments must do a better job of making their openings and corporate responsibility efforts more visible to those active and passive job seekers.
Hire Thought
Employed Americans may feel hesitant about changing jobs during the COVID-19 pandemic. That only means recruiting and HR must work that much harder to attract the best candidates. More outside-the-box thinking will be required to find top talent in what has become one of the most unique job markets the country has ever seen.