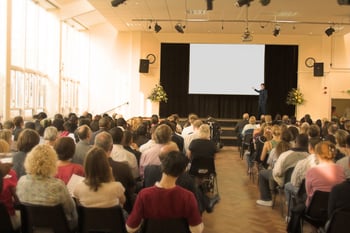 In just a few days, the largest northeastern conference for contingent labor management will kick off. Staffing Industry Analyst's Contingent Workforce Strategies (CWS) Summit and Collaboration in the Gig Economy, pack as much of a punch as they do acronyms. Don't miss a beat with this exclusive guide to everything you need to nail this conference, and frankly, any conference you'll ever attend.
For buyers and managers of contingent labor programs, no other event comes close to the line-up of events at CWS. Hosted by Staffing Industry Analyst, the leading authority on a number of staffing and workforce solutions, Attendees have unprecedented access to networking opportunities with like-minded professionals and related vendors, and countless informational sessions and round tables.
Whether attending solo or with a team, take some time to prepare a game plan. After all, Rome wasn't built in a day, and neither are the complex problems conference attendees hope to solve; such as developing a sophisticated contingent labor programs to manage one of the most diverse workforce populations.
Study the Floor Plan
Get a lay of the land as soon as you arrive. This will help you navigate which breakout sessions to attend without running yourself into the ground. Also, because there's a lot to see and hear, you can identify where the vendors or third-party affiliates are that you A. need to see and B. wish to see.
Pack the Basics
We bet outside of work you're a fashion force to be reckoned with, but for conferences keep it simple and comfortable. Those stilettos or oxfords may look amazing, but you will want to throw them off as soon as your running to make a next session on the other side of the conference. Check out the weather report before suiting up, but also keep in mind that hotel conference rooms tend to run cold. Pack basic staples for a wide range of events; i.e meetings, dinner, a casual outing, etc. You never know where a conference will take you, so don't forget to grab comfy footwear. Also what should be on top of your packing list: a power bank. Outlets are few and far between at conferences (if there are even have outlets available). You don't want to be that person sitting next to an outlet on the floor.
Prioritize Your Goals
It's easy to get caught up in the moment, whether it's making a new connection or jumping into an unplanned breakout session. Remember you are here for a reason. Study the agenda (For CWS you can find that here.) and prioritize your goals for attending the conference. Divide and conquer with your team, or if you are flying solo make sure you stay on task and attend what will be most important for your immediate objectives for your company.
Pre-plan Meetings
When possible, set up meetings in advance. This helps to maximize your time on the floor and reduce the time to juggle changes in your schedule or failed attempts to connect with your meeting contact. Plus, by doing this well in advance, you can take advantage of lulls in your schedule; i.e. breakfast and lunch meeting or when you aren't interested in any of the sessions.
Fuel Up and Hydrate
It seems like a silly one to include, but between the travel, lack of sleep, and on-the-run eating habits that usually occur at conferences, it's likely that your immune system is going to take a hit. Since you know you'll return to a full inbox, now is not the time to catch a cold. Don't skip meals for a meeting or session, stay hydrated, and bring healthy snacks. Trail mix and granola bars are some great options in a pinch with he mix of carbs, sugar, and protein that you need. Try to travel with a filtered canteen that you can fill up on the conference floor, and bring plenty of vitamins to take pre and post-flight.
Check Out Some Sponsor Events
Conference days are long, and it's great to get an opportunity to network, relax, enjoy some food, and a cocktail or two. Most conferences have sponsors who host after-conference events for attendees, so always keep a lookout for information on sponsor events that are listed on the conference website. We are biased to what the best event at CWS will be, but there's a whole list to check out for the remainder of the conference.
What are your best conference preparation tips? Leave them below in the comments!