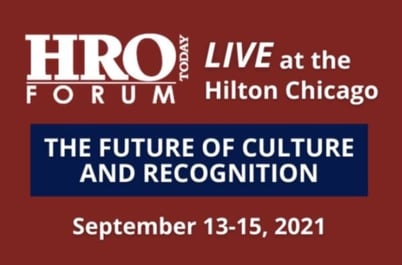 The HRO Today Forum conference will be held at the Hilton Chicago on September 13 - 15, 2021. This year's in person theme, "The Future of Culture and Recognition". will allow members to network with and learn from their peers once again face to face.
Join us at the conference to hear from leading HR thinkers, practitioners, technologists, and partners that are building tomorrow's World-Class Workforce today! You won't want to miss this opportunity!
HRO Today Association At A Glance
View the complete conference Agenda here to plan your day
Join other attendees for great networking opportunities and industry insights throughout the conference
Listen to informative sessions led by HR thought leaders providing the best educational content to expand your staffing industry knowledge
Sit in on our Talk - Total Talent and its Role in Attracting & Retaining Talent
Join the presentation of the 2021 HRO Today Association Awards at the Gala
Register For The Conference
Be sure to sign up for the conference today to ensure access to all the great informative tools this conference has to offer. Register to attend so you don't miss out on all the valuable knowledge you will gain through this event.