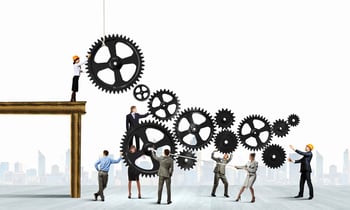 No HR department? No problem. Here are 10 tips and tools to grow and train your staff and build culture, without an HR team.
Your business is growing which means it's time to grow your staff. Exciting? Yes. A bit nerve-racking? It doesn't have to be. Putting together, keeping, and motivating an effective team requires careful thinking, planning, and execution.
As a small business with limited resources, this can seem daunting. So, how do you accomplish this without an HR professional on staff?
10 ways to help you wear a Human Resources hat with confidence
1. Create job profiles
Create a profile for each role within your business. What the position entails, what skills are required and what you're looking for. If you're as comprehensive as possible, for example (i.e., what makes the current employee successful in that role), you can use it in multiple ways, like building out sourcing profiles for future hiring.
2. Track candidates
You could use an Excel spreadsheet, but with the software available to you now, that doesn't make much sense.
We suggest starting with a solid and scalable ATS (applicant tracking system) that's built for small businesses. Having your staffing plan will help you evaluate new products to ensure they meet your needs. Keeping track and contact with various candidates will soon become a big part of your routine, so find an ATS that can help you and your team do that.
3. Have your paperwork in order
There are numerous forms from direct deposit forms to confidentiality agreements. But the top two you absolutely need to have on hand for a new hire are an I-9 Employment Eligibility Verification and a W4 Form.
An employee handbook is the centerpiece of an effective HR program. It explains your company's policies and procedures and communicates expectations. A good handbook also helps to protect your company in the event of a dispute.
4. Devise a salary structure
Compare and contrast the salaries for various functions within your business and those with fair market value for similar positions. Make sure to revise every six months to ensure you stay competitive. If your company offers other forms of compensation like benefits, stock options, profit sharing, or a work-flex environment; make a note of them but keep them separate from the salary structure document.
5. Create a compensation and benefits document
A small business may not offer the same sort of traditional benefits as large companies, but that doesn't mean you don't have a lot to offer. Get creative. Find out what you can do. Can you provide work from home opportunities? Can you buy equipment or offer discounted rates from benefits companies? With a little creativity and research, you can craft a benefits plan that's attractive.
6. Know the law
It's almost impossible for a small business to keep up with the rules and regulations for required notices at the federal and state level. Happily, there are companies that can solve this problem quickly and inexpensively. For around $25.00 you can get a combined state and federal poster that keeps you in compliance with posting regulations.
7. Recruit holistically
You can, of course, post openings on your company website, but you need to get job candidates there first. A great way to get your openings out in the open in a big way is to post to various job boards.
Many job boards have features like sharing, adding users, downloading, using your own company branding, candidate screening filters and more.
You can also take advantage of integrated social network postings to reach job seekers on Facebook, Twitter, and Google+. Don't forget job specific sites that specialize in sales, IT, marketing, etc. Job fairs and forums are also an ideal way to network with potential candidates, without the internet.
8. Set up a training and develop process
Think about what's in it for a new hire. Can you provide mentoring, support long-term career goals or leverage business partners or vendors for training opportunities (like webinars and white papers series)? Get your managers on board and find out what training they may need themselves, so that they can be good mentors.
Creating social leadership and creating ambassadors for your business from within is key to fostering a motivated and productive team.
9. Have a way to measure performance
Knowing how someone defines "doing well" and sets their goals will help new hires get acclimated. So, when creating your job profiles, find out how each person measures their success and make note of it.
Also, it helps you create the dreaded performance evaluation. Not all businesses have or enforce these, but they have a purpose, especially considering the surge of millennials in today's workforce. The key is constant and measurable feedback, rather than the typical yearly review.
10. Know when to call in an expert
Use outside experts to handle thorny workforce issues. You don't want to be guessing about how to handle a harassment complaint or a workplace injury. Have a human resource consultant on retainer to help provide guidance when difficult employee issues arise.
Now, put on your HR hat and hire away!
About the Author: Jamey Davenport is a professional project manager with extensive experience as a senior program & project manager in top fortune 100 enterprises. He is an expert when it comes to Waterfall, Agile and Scrum methodologies. Jamey comes from various professional fields (cybersecurity, QA, product management, cheapest essay writing service, IT & virtualization, business development, integrations) and possesses vast experience and knowledge.