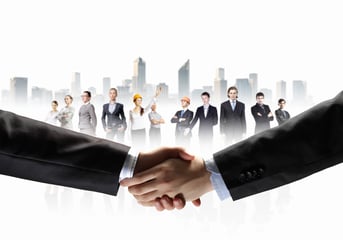 Onboarding new employees is a vital first step taken by companies to put new employees at ease. Here are five HR tips for onboarding new employees for HR personnel who will find this refresher guide helpful.
For new hires, coming on board is partly exciting and partly terrifying. It's like being a kid on their first day of school. It's exciting because, for new employees, their career is off to a fresh start with a positive outlook for the future.
Meanwhile, it's terrifying as it is an uncertain time full of the unknown. Meeting new people and being in a place where you could potentially work for many years is, indeed, nerve-wracking.
The anxiety that new employees feel on the first day is something HR should address. Whether they'll be working in an office or home, prepping new employees to start is essential. Here are five HR tips for onboarding new employees for a faster, smoother transition and deployment.
1. Communication Is Key
Excellent communication between employees makes effective employees and teams. Better work product is the result of open and transparent communication between co-workers. This, in turn, enables companies to thrive.
No wonder it is one of the most critical aspects of building your business or organization. And that is why it's essential to communicate with new employees as early as possible.
Set expectations right from the start. As soon as a new employee says yes to your job offer, open the channels of communication. Ensure that you convey what you expect from them and what they can expect from the company.
Don't forget to inform new employees of important company rules, such as dress codes and payroll requirements. When the new hires have questions, be prompt in answering them.
2. Don't Overwhelm New Employees With Training
If you're onboarding new employees, don't smother them with training. A lot of companies make this mistake. They tend to compress each module in the shortest time frame possible. As a result, new hires are either burned out or not wholly familiar with their new tasks. As a consequence, the company suffers from poor performance and unachieved business goals.
To avoid this error, extend and divide training sessions into manageable segments. Plan and schedule training sessions so that new employees can digest information with ease. Some companies offer training classes that can go on for as long as eight weeks, which has worked well. Once their training is completed, employees can perform better at their tasks with diligence and effectiveness.
Spreading out the training sessions will allow new hires to become acquainted with each other. And trainers will be better able to identify and address issues and improve performance.
3. Stress The Company's Core Values Clearly
Another critical aspect of a company that needs to be fully conveyed to new hires is the workplace culture. No, we don't mean well-lit offices or the free snacks at the pantry. We represent the values, beliefs, and mission of the company.
Studies indicate that one in five employees leave a company due to low workplace culture. These core values and how well they are assimilated make or breaks new hires.
Ensure that new hires fully understand the importance of the company's core values and accept them entirely. To help them understand the workplace culture, have a panel of leaders and managers.
Let the decision-makers discuss these values during the onboard sessions, allowing the new hires to view those who lead and manage the company as hands-on and approachable.
4. Get Help From "Work Buddies"
Hiring managers involve themselves in the onboarding process. Yet, there's nothing wrong with getting help from mentors or "work buddies."
Back in the day, only the hiring manager would be involved in this process. Their tasks stretched from creating presentations down to gathering materials. But times have changed, although the responsibilities of the hiring managers are still broad and varied.
Work buddies and mentors can be someone working from your company. They can assist new hires in understanding their roles much better. Though similar to panel discussions, it's different because it's more intense and hands-on. Mentors can also show presentations using PowerPoint templates for a more detailed one-on-one.
This is an opportunity for mentors to share what they do and enable a straightforward assimilation and transition. Work buddy mentorship is also a great way to build a friendship.
5. Feedback Matters
Currently, your company might have a successful onboarding process in place.
However, there's always room for improvement. With that in mind, don't be afraid to ask for feedback. Once the onboarding is done, send the new employees a short survey form.
Let them assess the training and assert what they liked and didn't like about the sessions. This way, you're letting them know you value their opinion.
Once you have collected all the surveys, it is time to do the evaluation. Read the comments and consider each one; improve your onboarding process wherever needed.
But the process doesn't end there. When the new hires are finally deployed to their new workplace, check on them after their first week. Ask their superiors how they're doing, or you can visit them at their workplace and ask them yourself.
One way to gain more spontaneous feedback is to hold a panel session or a "town hall meeting." This session should include company leaders and new hires, allowing the new employees and leaders to discuss topics vital to the company.
Final Thoughts
Onboarding ensures new employees are ready to take on any challenge. New hires will have a better understanding of how they can contribute to the organization, and they'll be motivated to do their part.
Author Bio- Dan Martin has hands-on experience in digital marketing dating back to 2007. He has been building teams and coaching others to foster innovation and solve real-time problems. Dan also enjoys photography and traveling.