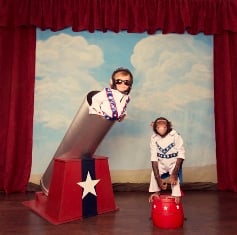 Attending an industry-specific conference is one of the best ways to reinvigorate your current role or perspective on a challenge at work. Staffing Industry Analysts' CWS Summit is one of the largest conferences for managers and buyers of contingent labor, and its goal is just that: to provide best practices and innovative solutions to conference attendees. When assembling your CWS agenda, or any conference for that matter, don't miss out on one of the most invaluable benefits of attending.
Slicing and dicing the jam-packed agenda can be a bit overwhelming; even for the most seasoned of conference-goers. One of the best pieces of advice I can offer is to consider that presentations are typically distributed after the conference. That's why I always place a strong emphasis on the one area that can't be replicated: the live, round table discussions.
Round table sessions provide attendees with the opportunity to ask their burning questions to a live subject matter expert. It also connects attendees with other like-minded professionals who find themselves in a similar situation. While the official CWS agenda has been released, it doesn't include in-depth information on the individual round tables. Since I will be facilitating a round table on the Best Practices in Selecting Your Staffing Suppliers and Program Partners, I thought why not provide an overview of what you can expect?
CWS Round Table: Best Practices in Selecting Your Staffing Suppliers
For organizations struggling to manage, track, and improve their existing contingent labor program, I encourage you to join me at CWS on Monday, September 19 at 9 AM PST (save this event to your Outlook calendar). Because round tables are live, I'm not sure exactly what will be discussed. I don't want you to miss out on the critical first step when moving to an outsourced contingent workforce solution which is why I created the video below.


If supplier management is more of your priority, I've included a few questions I anticipate I will get. Whether you are attending, or are simply looking for information, I hope this provides you with an overview of supplier and solutions management. If there is something I missed, feel free to ask me your question in the comments section of this blog.
What is the best method to access the talent supply chain mix?
I recommend taking an inventory of your current supply chain by line of business. From there, you can see where you might have gaps in your organization's talent supplier mix. For example, you might have ten suppliers to support admin positions and only five focused on IT staffing; an increasingly growing need within your organization. Once you analyze your supplier mix by line of business and geography, you can easily prioritize and develop a strategy for adding new suppliers.
How should I source new suppliers?
You may want to start with a competitive RFP. This process can be managed by the MSP's supplier relations team or the client. Before doing so, consider the following: not all RFPs are created equal. You can streamline the process by using a RFP template or calling on an RFP consultant. This ensures only the most vital questions are asked; reducing the time and resources spent distributing, collecting, and analyzing RFP submissions.
Additionally, you can consider dedicating a digital portal exclusively for suppliers. This way, suppliers can submit their information on an ongoing basis. Last, if you're in a small market, don't underestimate the smile and dial approach. You can easily perform searches on Google or SIA's sites for suggested suppliers.
Once my program is up and running, how do I continuously evaluate and improve supplier performance?
Each organization and staffing provider of outsourced contingent workforce solutions has their own "secret sauce" when measuring supplier performance. Supplier score cards are most commonly used, however this only accounts for one aspect of the process. Just as important as evaluating your talent supply chain is providing supplier with feedback. To make continuous program improvements, suppliers need to be aligned with your organization's goals.
If supplier performance is poor across all lines of business or in a particular subset, I would recommend working with your supplier directly to diagnose the problem. Arming suppliers with information is a good first step to remedy problem areas like supplier responsiveness, candidate quality, or compliance standards. You might even consider developing a supplier toolkit or some type of standardized document suppliers can refer back to.
What long term goals should I set for my supplier program?
Consolidating or adding new suppliers, creating performance benchmarks, and streamlining your program typically consumes the first one to two years. This leaves many organizations to ask: what's next? Like any business process in your organization, a truly optimized talent supply chain takes constant care and attention.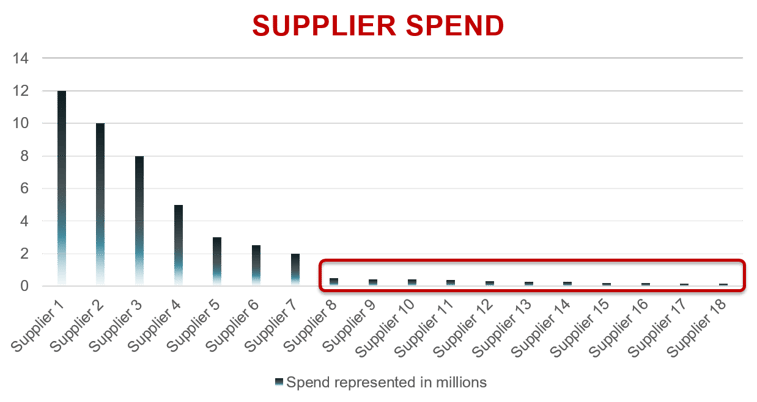 As your program evolves over time, so might areas like program size, workforce need, contingent labor budget, and sometimes even leadership. If you are struggling to identify where you can have the biggest impact in your organization's contingent labor program, consider the elimination of tail spend.
Take a look at the graph above. The top suppliers are easy to identify, but what about suppliers eight through eighteen? At what point should the quantity of suppliers supersede the quality of the end service? Really consider the value these low performing suppliers bring to your program. You can improve your relations and program goals by reducing the number of suppliers via the creation of a preferred supplier list. It's a delicate situation and should be handled with care, it will have a significant positive impact on your program.
About the Author: Erin Fortunato serves as the Vice President of Enterprise Sales for Yoh. Erin is responsible for new MSP account development at Yoh. Prior to this role, Erin spent most of her career in strategic global and national account management responsible for some of the largest client programs in the industry. She holds a degree in Mathematics and has been working in the staffing industry for 20+ years.