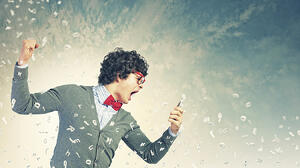 What would a work day be like without a conference call or two? I am sure you have seen the YouTube video, A Conference Call in Real Life (if you haven't, you need to check it out); there is so much truth to the video.
The conference call is one of the most familiar rituals of office life (and one of the most hated)! People on the line will interrupt others, multitask, not pay attention, join the call late, and forget to hit the un-mute button.
With all these things and many others, the list goes on and on of why not to attend a conference call. However, conference calls are not going anywhere. They are too useful for businesses dealing with flexible schedules, different time zones, rising business travel costs, etc.
So, whether you are hosting a conference call or attending a call, here are a few tips to help you make the most of your next call.
Dial in on time or a few minutes early, especially if you are the organizer. A lot of conference calls waste the first 5 minutes with constant beeps and interruptions from latecomers.
Think about your background noise. If you can't take the call from a quiet place, use a noise cancelling headset for when you are speaking and put it on mute when you are not.
Don't ever put your phone on hold. You will probably subject the rest of the call to your hold music or beeping.
Remember to un-mute your headset or phone when you want to talk.
Send a pre-call email to all participants outlining the agenda, dial-in details and any material they need to read.
Keep to the agenda and on time as much as possible.
Participants should keep contributions as concise as possible; no one appreciates a rambling monologue.
If you want everyone to follow the same presentation – screen share or set up a WebEx meeting. Join.me is a good, free resource too.
Focus on the conference call; it is easy to be distracted. We all tend to multitask, however when speakers have to repeat a question or you miss something, it defeats the purpose of getting everyone together on a call and extends the call.
Close the call with a clear summing up; next steps and follow up with an email for actions items.
One of the great things about technology, like the phone and conference lines, is that they allow us to save time and money and collaborate over great distances. However, there are some things that can help calls go smoothly. Watch the video again and try not to be one of the characters we all know and love from our own conference calls.
Jennie currently serves as an Operations Team Manager leading a virtual team of 38 Yoh employees. Prior to managing the Yoh Field Team, Jennie served as an HR Specialist supporting a Yoh client in Greenville SC. She currently resides in Milwaukee, Wisconsin with her husband and 2 year old son.