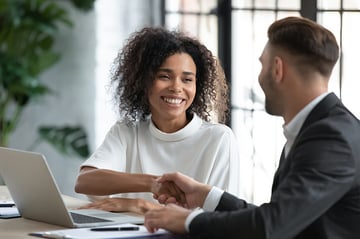 The current job market can be distressing for employers looking to retain and secure top talent within their organizations. Many companies are looking for innovative ways to improve their hiring practices to stand out to candidates. In this episode of Yoh's Back to Work podcast series, Day and Zimmermann and Yoh's Vice President of Talent Acquisition, Launia Terry and our host, Joe McIntyre, discuss the approaches companies and candidates are taking to level the playing field in this competitive market.


BIGGEST CHANGES IN THE JOB MARKET
Due to COVID-19, the way we work has shifted drastically and has left long-lasting effects. Many companies have proven their ability to go virtual, expanding the flexibility of work schedules and locations where people are working. A majority of companies have shifted to virtual or hybrid work models to stay competitive when it comes to a candidate's pool of potential employers.
When asked about the future of hiring in a hybrid world, Launia notes that companies need to assess what it takes to maintain productivity for their current employees and attract the right talent from the candidate pool. Some companies enjoy having employees in the office for collaboration purposes but understand the need to be flexible. Launia sums it up best saying, "There's a balance to be had, and I think the hybrid work model will be around for quite some time."


how to land top-tier talent
Employers are looking for innovative ways to evolve in order to continue hiring top candidates. Launia suggests refining your hiring process to make it as fast and efficient as possible. Leveraging employee referral programs and social media platforms as recruiting tactics are also key hiring practices.
Above all, companies need to be focusing on their "employer brand." Launia discusses how many companies haven't taken the time to understand how candidates see their organizations on job boards, social media, etc. Not only do you want to list the benefits and competitive salaries of your company, but you'll also want to highlight your company culture to provide a more human and authentic view of what working there will be like.

understanding what employees want
When asked how employers can better understand what employees want, Launia put it simply: ask. In these challenging times, employers need to understand from a candidate's perspective what they're looking for to evaluate if they're aligned for the role and the company. It is a mutually beneficial relationship with compromises for both parties to align their needs in terms of work, schedule, benefits, etc. Talent resilience like this is crucial to letting candidates and employees know their needs are supported, and you are not afraid to be transparent with your expectations.
As Launia discusses, it is a thoughtful process for employers to assess the strategies needed to attract top-talent on a long-term basis. Listen to the full podcast episode to learn more tips for improving your hiring process as the way we work continues to evolve.