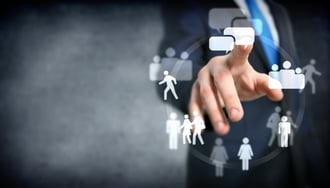 With the introduction of new virtual job boards, it's never been easier to find your dream job. However, it's never been easier for your peers to find the same career opportunities too. Job search platforms like LinkedIn and Indeed have found ways to simplify the application process, with functions such as One-Click Application and Easy Apply making it as straightforward as merely clicking a button.
So, how do you stand out in a sea of applicants?
The first step is knowing what to do when applying for a job online.
1. TAKE A LOOK AT THE COMPANY'S WEBSITE
Firstly, this will give you insight into a potential employer. Take your time going through their website, and familiarize yourself with what the company does and what they stand for.
Do you share the same interests and values?
Part two assists you in your actual application. By understanding your potential employer's corporate identity and services, you can identify any gaps in your resume. You can then fill these gaps in to highlight why you would be the perfect fit. Recruiters will also be impressed by your knowledge of the company.
2. READ THE LISTING PROPERLY
This may seem like an obvious point to include, but many applicants seem to miss this part.
While the urge to apply for any job with the title you're looking for is ever-present, different companies will have varying requirements and expectations.
Always ensure that you're able to meet and exceed their requirements before applying.
3. INCLUDE THE RELEVANT KEYWORDS
When applying online, recruiters and bots will look for specific industry and job-related keywords in resumes. This is where our first tip comes in handy. If you know what the company is looking for, be sure to include those skills in your cover letter and your resume.
As convenient as a generic cover letter and resume may be, they run the risk of your application going unnoticed for something as simple as omitting an essential term; for example, efficient in Photoshop or coping well under pressure.
The job description should help you identify the keywords, and if needs be, you can tweak your resume to correlate with them.
4. KEEP YOUR ONLINE PROFILES UP TO DATE
Many job portals include a section for you to add links to your online profile. An up-to-date profile can share additional information with recruiters and illustrate that you're proud of – and serious about – your career and growth.
A professional, fully completed, and current profile will create a favorable impression.
Before applying, give your profile a quick read through to make sure everything related to your career history – relevant to your application – is included.
Use this time to update your social media profiles too. Potential employers often take a look at Facebook, Instagram, and Twitter in an attempt to gauge who you are and what you stand for. While this is a unique platform, it's important to keep it as positive as possible and steer clear from derogatory comments and any other elements that may show you a bad light.
In addition to these considerations, there are a few other elements to keep in mind:
5. WRITE A COVER LETTER
While many job-seeking sites list a cover letter as optional, it's always advisable to send one.
Consider this your elevator pitch.
Your cover letter allows you to talk about yourself, your experience, and your aspirations. This is also an opportunity to include some of your company research for extra points subtly.
Once again, be sure to mention the keywords discussed earlier to highlight why you're the right person for the position.
6. COMPARE JOB LISTINGS
To prevent gaps in your application, compare the company's listing on their site to the one on the job platform.
Often, the company listing mentions application criteria that the job portal doesn't. It may also include specifics for sending through your application and supporting documents.
Don't rush while applying; the little things you miss may be why you're not getting responses. Attention to detail is something that recruiters look out for.
7. DON'T MAKE IT TOO SIMPLE
Yes, keeping things simple and to the point on your resume is always a plus, but it can come across as lazy when not done correctly. This refers back to your attention to detail and your work ethic.
While the online world is more convenient, it's by no means an excuse to be informal about your application.
Proofread your application before sending it to make sure that grammatical errors and typos are not present. The last thing you want is the recruiter to think that you're lazy and don't care about how you present yourself and your work.
It's also recommended that you thoroughly proofread your LinkedIn and any other online profiles to amend any potential issues.
8. STOP RELYING ON AUTOFILL
It may make applications more manageable, but you put yourself at risk of not including the correct information or omitting important details if you rely on autofill. You want to impress a potential employer with your attention to detail and thoroughness. Take the time to triple check your application before hitting submit.
Don't leave anything to chance; be sure of what you're submitting to avoid wasting anyone's time.
9. AVOID INCOMPLETE SECTIONS
It may seem like duplicate work to complete the application manually if you're submitting your resume, but it's more than that.
The manually completed form is often visible to recruiters, which means that they see this before opening your resume. This will be the difference between having your application viewed or ignored, so make it count.
Treat this as you would your resume – first impressions are everything.
DON'T RUSH IT
Finding a new job takes time and effort, and there's no shortcut to success. What you put in is what you'll get out, and a stand-out resume is sure to get you ahead!
Author's Bio- Lee Anna Carrillo is a community manager at Resumoo. A resume writing service, and career resource database.