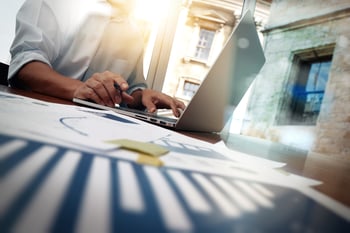 When Richard William McDonald worked with a South Carolina company, he successfully defrauded the company to a tune of $470,000. What he did was simple, he convinced the major stakeholders that the company's creditor accounts were current.
When in fact, the accounts were overdue. He used the money to pay personal credit card debts. He did such a fantastic job that it lasted for a while before the company caught up to his crime. The risk of fraud and other criminal activities is one reason companies carry out credit checks. This article educates employees and employers on why credit checks are vital.
Why Do Employers Carry Out Credit Checks?
A credit check is a series of checks that an employer or organization carries out on a potential employee. They are mostly financial information that helps them understand the financial standing of the individual.
Since the General Data Protection Regulation (GDPR) came into existence, credit checks have become a common practice amongst employers. The idea is to ensure that employees don't misuse their positions.
In general, employers will only check public information that comes in the credit report. These pieces of information are not the same as the kind of information a lender can access. Ultimately, the privacy of the potential employee remains private.
While the reasons for a credit check may vary from organization to organization, all employers want to know is if your financial position will not affect your performance. Again, they want to be sure that you are not a threat to money-sensitive data. To put it straight, the employer wants to know how you will respond to financial pressure.
A credit check can flag down potential challenges that employers won't accept, like:
Late payments. This indicates a lack of consistency, responsibility, and trust.
Using a list of prepaid cards for credits. This indicates excessive debt, which hallmarks financial distress.
Evidence of financial mismanagement. This shows that an applicant is not fit for certain roles.
State Laws On Employment Credit Checks
First of all, employment credit checks are legal. They are supported by federal law in all kinds of credit checks. The employer is expected to follow a strict process that complies with the standards of the Fair Credit Reporting Act (FCRA).
The FCRA allows employers to request a credit report or history. But, they must:
Obtain written permission from the potential employee in a standalone disclosure document.
Provide a copy of the credit report alongside a written summary of the individual's rights.
Notify the individual of any errors in their credit report after giving them some time (3-5 working days) to identify and dispute the error. The employer must take action on a said report by notifying the applicant of the reason for their action.
How Do You Run Credit Checks On Potential Workers?
The Society for Human Resources Management (SHRM) reports that 47% of employers conduct credit checks. After the recession in 2008, several states prohibited employers from using an applicant's credit history as a criterion for employment decisions. According to them, it's not fair nor sensible to make people pay for past credit mistakes especially, if it affects their future earning abilities.
Some cities have laws prohibiting credit checks and restricting how information from the reports is used. Eleven states kick against using credit reports for employment screening. This includes California, Connecticut, Oregon, Delaware, Colorado, Illinois, Vermont, Hawaii, Maryland, Washington, and Nevada. However, as stated, these limits are not universal. For example, some credit check laws exempt employees from handling money, goods, and financial data access.
The Real Dangers
An employer that hires the services of a worker without a credit check is at the risk of:
Facing the full wrath of the law since a credit check is a federal requirement, which may lead to exposure to lawsuits and allegations of negligent hiring.
Internal fraud and theft since the employee can continue to provide falsified reports to cover up.
Losing its integrity and right standing. An organization that seeks to maintain its integrity must leave no stone unturned. The drama that comes with falling victim to fraud within the organization can discourage clients. Hence, making them lose their trust in the organization altogether.
Bankruptcy. When the employee continues to cook reports while diverting money for personal use, the company is on its way to hitting rock bottom.
How Can You Run Credit Checks?
The best and most reasonable approach is to have policies supporting the procedure. When there is a business reason to do a credit check, it cannot be considered discriminatory. Conversely, use collateral materials like applications, consent forms, interview guidelines, and questionnaires.
Final Thoughts
Information remains one of the best ways to make hiring decisions without regrets or risk. Credit checks help uncover an applicant's criminal history and help you see the candidate's management skills.
By doing credit checks, you're improving the quality of hires, making the workplace safer, and protecting your customers from harm. Applicants should avoid using all available credit. Rather, work on developing better money management habits to give your credit history a boost.
About the Author: Oyegoke Motolani Oluwakemi is a freelance writer for PrepaidCards123. Standing by the values of originality, creativity, and reliability, she creates content for several niches with the aid of extensive research and observations. She's an author and runs a blog of her own.