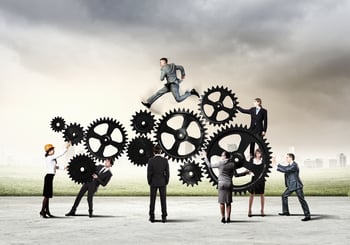 It's go time! Your strategy's been approved, your project's been greenlit, now you're ready to focus on resources and creative project management.
Building your creative project team can be daunting. Where to start? What to consider? What resources do you need – and are they available now? In-house or outsource? Deliverables? Timing? Budget? Branding? Messaging?
We spoke with Kim Johnson, Market Manager for Yoh's Creative & Marketing Staffing Practice, about the steps to building the perfect creative project team. Here's what she had to share.
1. Get the Intel – Ask the right questions
Creating the perfect creative team starts in the very beginning. Communication is key, especially in your initial meetings. Drill down and get super clear on your needs and deliverables. Ask the right questions, including:
What are the goals for this particular project?
What is the project timeline and required completion date?
Is there a specific brand message / voice / tone / look and feel? Or is part of the project creating the brand / voice / look and feel?
What are the specific business goals / objectives driving this project?
Does the project include finished production or only conceptual ideas?
2. Build the Foundation – Dig in
After articulating the project goals, build a foundation for success through research and planning. Take the time to work out the look, feel, and messaging. Next, layout a project plan with key dates and budgets.
3. Create Chemistry – Hire the right team
When selecting a team, you need to balance securing top individual talent with creating team chemistry. Consider how the brilliant creative personality types might get along.
Build a team that inspires each other, and bring in a well-matched Project Manager to help manage the process and project timeline.
Once everyone is assembled, create buy-in and ensure content messaging requirements, project deliverables, timeline, and key milestone expectations are translated and assimilated.
However, if you don't have every creative resource you need in-house, consider outsourcing the project, or reaching out to a staffing agency like Yoh to help you supplement your project team with the perfect UI Designer, UX Designer, Content Specialist, Brand Strategist, or whatever creative talent you need.
So, if you're not sure you want to go it alone, reach out to Kim Johnson to learn more or just to explore your creative talent options. We understand what you are looking for, because we've been in your shoes. And finding creative talent is what we do, every day.